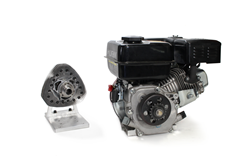 I like to invest in companies that have two key ingredients — important new technology AND great people. I feel LiquidPiston has both.
BLOOMFIELD, Conn (PRWEB) August 01, 2018
Back by popular demand, LiquidPiston Inc., an advanced internal combustion engine technology company, has initiated a second round of equity crowdfunding via Wefunder. The funding is a continuation of the company's last round raised on Wefunder, which was oversubscribed. It offers investors another opportunity to invest in the biggest leap forward in engine combustion technology over the last 85 years. Both accredited and non-accredited investors may participate in the equity crowdfunding starting publicly today at wefunder.com/liquidpiston.
"Ever since the close of our highly successful Wefunder campaign in April 2017, there's been consistent interest from accredited investors, as well as non-accredited investors who are simply passionate about our technology, in another opportunity to invest," said Alexander Shkolnik, CEO and Founder of LiquidPiston. "I'm excited to announce today that anyone who missed out on our oversubscribed round, as well as those who partook last time around, has another opportunity to invest in LiquidPiston."
Since the close of LiquidPiston's last investment round on Wefunder, the company has executed on a multi-phase program funded by the Department of Defense. It exceeded all the goals set in Phase I of that program and late last year was awarded a $2.5M follow-on contract for Phase II, which will run through October 2018 and focus on proving out the engine's power and efficiency. This program is for LiquidPiston's 30kW, 40hp X4 rotary engine for diesel and jet-fueled engines, which are relied upon by the military. Following successful completion of the program's Phase II, the next step will be to transition the technology to large-scale production and sales, test the X4 in an application, and then ramp up production.
In addition to the military program, LiquidPiston has received growing UAV industry recognition and interest in the company's technology by manufacturers and operators as a drone propulsion solution. In November of last year, the company took home the top prize at the Association for Unmanned Vehicle Systems International's (AUVSI's) NOVUS Unmanned competition in San Francisco. LiquidPiston was also selected to present at Starburst Accelerator's U.S. Selection Committee conference held in San Diego last December as well as Starburst's Selection Committee conference held in Tel Aviv last March.
Previous investors in LiquidPiston have been highly impressed by the company's team and technological innovation. The company has over 45 patents issued or pending, which have far-reaching implications, including the potential to improve fuel efficiency by up to two times over gasoline engines while reducing the size and weight of diesel engines by up to ten times.
"I like to invest in companies that have two key ingredients — important new technology AND great people. I feel LiquidPiston has both," said LiquidPiston investor, former Compaq CTO, and co-founder and Managing Director of Sternhill Associates, Bob Stearns. "The company's engine technology is a fundamentally new and important breakthrough, with broad commercial and military applications. And the entrepreneurial management team is truly impressive — brilliant, high-energy, pragmatic, and totally committed. I'm thrilled to be able to play even a small part in making this company successful."
"Our initial Wefunder campaign was incredibly successful in a very short amount of time," added Shkolnik. "It clearly illustrated that we are not alone in our desire to disrupt the $400B combustion engine market while reinventing the underlying principles of internal combustion engine architecture in the process."
To invest, visit LiquidPiston's Wefunder page at wefunder.com/liquidpiston.
About LiquidPiston
LiquidPiston, headquartered in Bloomfield, Conn., is revolutionizing next-generation engine development. The company develops and licenses compact & efficient power solutions based on an optimized thermodynamic cycle and a new type of rotary engine architecture. LiquidPiston's patented high-efficiency cycle is the biggest leap forward in combustion engine technology over the last 85 years. For more, see http://www.liquidpiston.com.