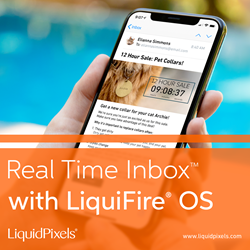 LiquiFire OS is a huge leap forward in how brands communicate with customers by creating a deeper connection through highly relevant personalized text AND imagery.
ROCHESTER, N.Y. (PRWEB) September 16, 2020
LiquidPixels, Inc., the premier provider of enterprise-class dynamic imaging solutions, today announced the seamless integration of their product Real Time Inbox™ with LiquiFire® OS, into HubSpot®, Constant Contact®, and Mailchimp®. Real Time Inbox enables marketers to create targeted email campaigns with customized and personalized images for each recipient—on-demand at the moment the email is opened—making each message more relevant to increase conversions.
LiquidPixels has made Real Time Inbox available to clients since 2012 when they were awarded the U.S. Patent for providing customized dynamic images in email. However, they are pleased to announce that LiquiFire Image Chains™, the underlying technology that drives Real Time Inbox, are now fully compatible and easily integrated with several major email marketing services. To promote this development, LiquidPixels made technical documentation available on LiquidPixels Knowledge™ for the necessary steps needed to quickly integrate Real Time Inbox with the HubSpot, Constant Contact, and Mailchimp platforms. LiquidPixels expects to announce additional integrations with other email clients and CRMs by the end of the year.
Email with personalized content is not new—marketers have capitalized on targeted content for years. Direct, personalized campaigns are highly effective, and marketing automation platforms deliver email with ease. According to eConsultancy, 74 percent of marketers have stated that targeted personalization increases their overall customer engagement rates, and HubSpot says personalized calls to action convert 202 percent better than default calls to action.
However, the same tools that marketers use to customize email text, often fail to customize imagery. This forces graphic designers to create scores of stand-alone photos, and marketing managers to create multiple segmented email campaigns to deliver them. It wastes time, creative resources, and defeats the purpose of marketing automation.
Real Time Inbox email campaigns are driven by data to tailor images to each individual recipient. Using the power of LiquiFire Image Chains directly within email templates, marketers can now deliver unique images along with targeted content. Real Time Inbox creates and delivers a new image—generated on-demand—the moment an email is opened. Images can change based on geographic information, or incorporate data such as product stock, pricing, or availability, items a customer previously viewed on a website, personal preferences, or current events.
Emails with dynamic imagery can now visualize low inventory levels or include product images from an abandoned shopping cart. Rather than manually create static content in an image editing environment, Real Time Inbox with LiquiFire OS generates individually targeted images instantaneously.
LiquiFire OS offers rich imaging capabilities such as colorization, texture draping, and advanced typography for true image customization. Create an email campaign featuring a customer's favorite shirt, in their favorite color, with the fabric of their choice, with their own personal monogram stitched onto the product—generated the moment the customer opens their email.
Integrating effortlessly, data-driven email campaigns can retrieve assets from many sources, including cloud services like Amazon S3. Data can also be retrieved via JSON, XML, or directly. Marketers tap existing assets with minimal effort. Email no longer has to rely on a one-size-fits-all approach. Instead, product imagery can be customized to every consumer—instantly and on demand. To see Real Time Inbox with LiquiFire OS in action, visit https://www.liquidpixels.com/real-time-inbox-with-liquifire-os.
"Email automation was a boon for the digital marketing world, but people are now conditioned to receiving specific and relevant information tailored directly for them. Static imagery with personalized text is insufficient," said Steve Kristy, CEO of LiquidPixels. "Real Time Inbox with LiquiFire OS is a huge leap forward in how brands communicate with customers by creating a deeper connection through highly relevant personalized text AND imagery."
About LiquidPixels
LiquidPixels is the world's only provider of enterprise-class dynamic imaging solutions. Built on open standards, our LiquiFire Dynamic Imaging Solutions integrate into existing Web and workflow environments, enhancing product creation and visualization while reducing production costs. Founded in 2000, LiquidPixels makes its patented technology available as a hosted service or via on-site enterprise servers with solutions that may be tailored to each of our customers' unique needs. For more information, visit us at LiquidPixels.com.
Contact: Bruce G. Owens, Jr.
Email: sales@liquidpixels.com
Phone: 866-808-4937 (x307)
LiquiFire® is a registered trademark of LiquidPixels, Inc. "LiquiFire Image Chain" and "Real Time Inbox with LiquiFire OS" are trademarks of LiquidPixels, Inc. For full list of trademarks and patents, visit liquidpixels.com/legal.
© 2020 LiquidPixels Inc. All rights reserved.
###