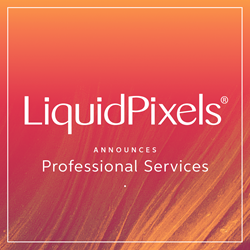 Our imagery expertise is just as valuable as our product solutions.
ROCHESTER, N.Y. (PRWEB) November 11, 2019
LiquidPixels, Inc. announces the launch of Professional Services, an expanded business unit that incorporates production services, consultative services, and tactical sales support in one distinct division. The new initiative will be managed by Mitch Dagg.
The LiquidPixels Professional Services division is dedicated to bringing value through collaboration. By providing resources to help e-commerce sites overcome their digital imaging challenges, LiquidPixels Professional Services will help clients achieve their strategic goals. This new division will collaborate with e-commerce executives and their teams to provide the knowledge, tools, and resources needed for effortless implementation of dynamic imagery solutions.
"We recognize that our imagery expertise is just as valuable as our product solutions," says Steve Kristy, CEO of LiquidPixels. "Through consultative services, we can utilize our industry experience to help clients develop optimized workflows, reduce website production costs, and create exceptional customer experiences through inspirational imagery."
The division is overseen by Mitch Dagg, newly-hired Manager of Professional Services. Dagg has nearly a decade of experience working on projects for the largest tech companies in the world. In his new role, Dagg will share his knowledge of large-scale technical implementations, marketing campaigns, and digital production projects to help clients define and achieve their e-commerce targets.
Dagg's background includes tactical sales support and consultation services. His extensive experience includes working with clients on high profile B2B campaigns, as well as direct to consumer initiatives.
"I am incredibly excited to be joining the LiquidPixels team, and expanding on our offerings with the formation of the Professional Services division," says Mitch Dagg, Manager, Professional Services. "LiquidPixels dynamic imaging solutions are second to none, and we look forward to expanding our role as a trusted advisor to our clients, partners, and the imaging community."
About LiquiFire® Operating System
LiquidPixels LiquiFire® Operating System empowers e-commerce companies to incorporate dynamic imaging into their websites and emails. This enterprise-class functionality enables online shoppers to quickly create and view custom products before purchasing. LiquiFire OS transforms a single master image into a new size and format, as well as controls its compression level. At the moment an image is presented, LiquiFire OS creates the necessary version on demand.
About LiquidPixels, Inc.
LiquidPixels leads the imaging revolution. Built on open standards, our LiquiFire Dynamic Imaging Solutions integrate into existing web and workflow environments, enhancing product creation and visualization while reducing production costs. Founded in 2000, LiquidPixels makes its patented technology available as a hosted service or via on-site enterprise servers with solutions that may be tailored to each of our customers' unique needs. For more information, visit us at LiquidPixels.com.
© 2019 LiquidPixels Inc. All rights reserved.
Contact: Bruce G. Owens, Jr.
Email: sales@liquidpixels.com
Phone: 866-808-4937 (x301)