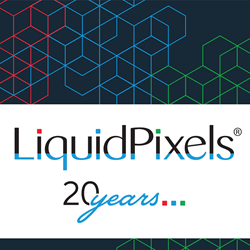 We invented dynamic imaging and continue to innovate every day. No one can do everything we do.
ROCHESTER, N.Y. (PRWEB) November 11, 2020
LiquidPixels, Inc., the premier provider of enterprise-class dynamic imaging solutions, today celebrates 20 years of inventing and redefining the dynamic imaging software industry. Founded in 2000 by Stephen Kristy and Marc Spencer, both former Kodak executives, LiquidPixels is the only provider of enterprise-class dynamic imagery solutions that brings value without complexity. True to its founding principles, LiquidPixels continues to create products that process imagery in the best, fastest, and most flexible way.
LiquidPixels has long been associated with e-commerce as the preferred imaging solution for some of the world's largest online companies. Now, the company's flagship offering, LiquiFire® Operating System (OS), also supports all aspects of enterprise-class imaging needs, making LiquidPixels the only company to provide true end-to-end imaging support.
A History of LiquidPixels
After two years of research and development, LiquiFire OS, the core dynamic imaging solution of LiquidPixels, launched in 2002 giving e-commerce sites the ability to create completely customized images on-demand. By 2007, the company was innovating ways to enable lifelike draping of fabrics and patterns on product images to render photorealistic results. In 2010, LiquiFire OS solved for direct-to-print industry challenges with solutions for CMYK, spot color, and web-to-print support.
In 2012, LiquidPixels iterated to handle the data revolution, with solutions to instantaneously generate imagery from external sources, including QR and barcodes. By 2015, the company introduced Global Localization: on-demand location-based imaging using LiquiFire Image Chain™ integration of GeoIP data. Then in 2017, breakthroughs in Advanced Typography and fast 3D ImageMap enabled completely individualized product views.
In 2020, LiquidPixels achieved several major technology milestones in celebration of their twentieth year. First was the launch of LiquiFire Embroidery Suite™. The only software of its kind, LiquiFire Embroidery Suite can acquire any standard embroidery file, interpret it, render it as a photorealistic image, or create machine-ready embroidery files. Next was the launch of the completely reimagined LiquidPixels Optimize™. This platform empowers e-commerce websites to analyze their page weight and shows exactly how much faster their websites would load if their images were optimized. Most recently in September, the company also announced the seamless integration of Real Time Inbox™ with LiquiFire OS into HubSpot®, Constant Contact®, and Mailchimp®, enabling marketers to create targeted email campaigns with customized and personalized images for each recipient—on-demand at the moment the email is opened.
Planning for the Future
After decades of experience leading the e-commerce imaging space, LiquidPixels extended its solutions to include multiple delivery methods, data management, digital asset management, and professional consulting, all within the LiquiFire OS platform. Going forward, LiquidPixels intends to introduce features such as interactive dynamically-generated environments, including expanded AI, AR, and 3D integration.
"LiquidPixels is the only provider of enterprise-class dynamic imagery solutions. This is not just hyperbole—we created this technology. We hold four patents in dynamic imaging. We invented it and continue to innovate every day. No one can do everything we do," said Stephen Kristy, cofounder and CEO, LiquidPixels. His cofounder and CTO, Marc Spencer, agrees, "We love to leverage complex technologies invisibly to bring value without complexity; processing imagery in the best, fastest, and most flexible way."
About LiquidPixels
LiquidPixels is the world's only provider of enterprise-class dynamic imaging solutions. Built on open standards, our LiquiFire Dynamic Imaging Solutions integrate into existing web and workflow environments, enhancing product creation and visualization while reducing production costs. Founded in 2000, LiquidPixels makes its patented technology available as a hosted service or via on-site enterprise servers with solutions that may be tailored to each of our customers' unique needs. For more information, visit us at LiquidPixels.com.
Contact: Bruce G. Owens, Jr.
Email: sales@liquidpixels.com
Phone: 866-808-4937 (x307)
LiquiFire® is a registered trademark of LiquidPixels, Inc. "LiquiFire Image Chain" and "Real Time Inbox with LiquiFire OS" are trademarks of LiquidPixels, Inc. For full list of trademarks and patents, visit liquidpixels.com/legal.
© 2020 LiquidPixels Inc. All rights reserved.