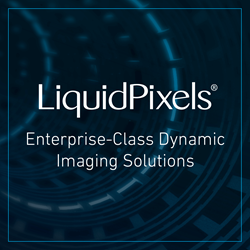 LiquidPixels continues to deliver rich integration methods, automation tools, and advanced imaging solutions, along with a dedicated focus on security to support enterprise environments both now and in the future.
ROCHESTER, N.Y. (PRWEB) July 22, 2020
LiquidPixels, Inc., the premier provider of enterprise-class dynamic imaging solutions, today announced that its LiquiFire Operating System (OS) dynamic imagery solution supports every aspect of the enterprise ecosystem. LiquidPixels has long been associated with e-commerce as the preferred imaging solution for some of the world's largest e-commerce companies. LiquiFire OS supports all aspects of enterprise-class imaging needs, making LiquidPixels the only company to provide true end-to-end imaging support.
After decades of experience leading the e-commerce imaging space, LiquidPixels has expanded its solutions to include multiple delivery methods, data management, advanced imaging capabilities, and automated optimization features, all within the LiquiFire OS platform. LiquiFire OS is a powerful, scalable, and secure digital imaging solution that seamlessly integrates with existing infrastructures and automates workflows. Enterprise use-cases include product lifecycle management, CRM, enterprise resource planning, supply chain, field services, and much more.
"Imagery is everywhere and is used substantially more than just a marketing tool. Especially in this current economic landscape, it has become the foundation of the digital-first environment that's proved to be so critical for organizations today," said Steve Kristy, CEO of LiquidPixels. "LiquidPixels continues to deliver rich integration methods, automation tools, and advanced imaging solutions, along with a dedicated focus on security to support enterprise environments both now and in the future."
Benefits of LiquiFire OS for the enterprise include:

Integration: LiquiFire OS is integration-agnostic. The software supports more than 100 image file formats and can seamlessly integrate with all major website platforms. LiquidPixels also offers four highly customizable delivery methods (including SaaS, Cloud, Managed Hosting, and On-Premise Servers) to fit into any existing infrastructure.
Automation: LiquiFire OS Zap™, LiquiFire Resolve™, LiquiFire Viewer Suite™, and LiquiFire Instant Optimization™, together create a technology suite that optimizes images for a broad audience, automates repetitive tasks, reduces page weight, improves website speed, and minimizes the online image library.
Security: LiquidPixels protects and secures every piece of data via fault-tolerant data centers.
Complex Access Control: LiquiFire Orb™ allows for exceptional fine-grain control at both the team and user levels.
Examples of enterprise use-cases include:
In e-commerce, a new product is photographed in a company studio using a high-resolution camera and tightly controlled lighting and color management. LiquiFire OS is then used to automatically remove the background, forming the base high-resolution image. The resulting image is added to the product database and paired with pricing, color options, inscription location, and available fonts. LiquiFire OS generates an appropriate resolution image for the e-commerce product page and optimizes the image for responsive website design. LiquiFire Viewer Suite is utilized to deliver interactive motion, zoom-and-pan, magnification, image collections, and multi-axis viewing solutions for every screen size and resolution. LiquiFire Resolve auto-detects every presentation device and creates the optimal resolution and image format based on a shopper's browser platform and settings. LiquiFire OS is then used to render products in the shopper's preferred colors, styles, and inscriptions. Once selections are made, LiquiFire OS generates a thumbnail image for the shopping cart. Finally, by referencing the master image and user preferences, Real Time Inbox™ with LiquiFire OS creates an image on demand at the moment the customer opens their confirmation email.
Another use-case is in large scale manufacturing. CAD/CAM and 3D markets can utilize LiquiFire OS to fabricate a product and export to PDF for printing in service manuals. LiquiFire OS is used to display and zoom in on break-out images for every part of any subsystem, on demand, directly on a service person's tablet.
A third use-case is for the imaging needs in a large-scale theme park where imaging servers are centralized for many operations throughout. Guests can display You Are Here and How Do I Get There? maps at any park kiosk. Images of guests are captured at various points around the park, tagged via RFID bracelets, and displayed at kiosks or via the park app. Customized products are virtually displayed and can be ordered at the kiosks, on any smart device, or at the on-premise hotels. LiquiFire OS helps to optimize, streamline, and secure this entire process, from the servers to the image previews to the production of the ordered gifts.
For more information, please visit http://www.liquidpixels.com/enterprise.
About LiquidPixels
LiquidPixels leads the imaging revolution. Built on open standards, our LiquiFire Dynamic Imaging Solutions integrate into existing Web and workflow environments, enhancing product creation and visualization while reducing production costs. Founded in 2000, LiquidPixels makes its patented technology available as a hosted service or via on-site enterprise servers with solutions that may be tailored to each of our customers' unique needs. For more information, visit us at LiquidPixels.com.
Contact: Bruce G. Owens, Jr.
Email: sales@liquidpixels.com
Phone: 866-808-4937 (x307)
LiquidPixels®, LiquiFire®, MagniFire®, the LiquidPixels Logo, and the slogans "Visualizing E-Commerce®," "Are Your Images Fluid?®," and "Liquify Your Site®" are all registered trademarks of LiquidPixels, Inc. The LiquidPixels' three-pixel mark, "Liquify," "Assets From Anywhere," "LiquiFire OS Blaze," "LiquiFire OS Zap," "LiquiFire Spark," "LiquiFire Station," "LiquiFire Orb," "LiquiFire E- Catalog," "LiquiFire Jazz," "LiquiFire Resolve," "LiquiFire Viewer Suite," "LiquiFire Image Chain," "LiquiFire Hosted Service," "LiquiFire Imaging Server," "LiquiFire Embroidery Suite," "Dynamic Imaging," "Imagery Beyond Imagination," "Pixels Paint Your World," "LiquiFire Foundation Image Chains," and "Real Time Inbox with LiquiFire OS" are trademarks of LiquidPixels, Inc. Other trademarks used within this document remain owned by their respective organizations. LiquidPixels LiquiFire OS is covered by patents 7,109,985, 8,245,228, 8,296,777, and 8,914,744. Other patents pending.
© 2020 LiquidPixels Inc. All rights reserved.