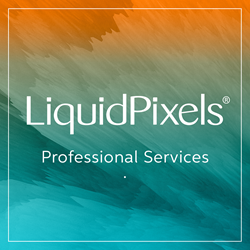 When imagery is mission critical, companies choose LiquidPixels.
ROCHESTER, N.Y. (PRWEB) January 27, 2021
LiquidPixels®, the premier provider of enterprise-class dynamic imaging solutions, today announced that its Professional Services Division—an expanded business unit that incorporates production services, consultative services, and tactical sales support in one distinct division—posted record year-over-year growth since its inception in 2019.
Led by Mitch Dagg, an industry veteran with more than a decade of experience working on projects for some of the largest companies in the world, the LiquidPixels Professional Services Division recorded a 55 percent increase in revenue for 2020. Average job revenue increased by more than 50 percent, as well. "With the sudden global reliance on e-commerce at the beginning of 2020 we saw a significant need for new configurations of LiquiFire® OS," said Dagg. "The need for flexible dynamic imagery solutions spiked, driven by the demand for more sophisticated, photo-realistic imagery in e-commerce."
The LiquidPixels Professional Services division is dedicated to bringing value through collaboration. By providing resources to help e-commerce companies and enterprises overcome digital imaging challenges, LiquidPixels Professional Services helps clients achieve their strategic goals.
LiquidPixels' Professional Services Division is built upon three core competencies designed to overcome any challenge enterprises have in delivering the most stunning images to their marketing or commerce platforms. These include:

Expert-led hands-on implementations and configurations, which are always done by the LiquidPixels in-house team.
A singular focus on assisting the sales team in understanding clients' needs and how LiquidPixels can support the mission using LiquiFire OS.
Collaboration with existing clients and new prospects to understand their dynamic imaging needs and to chart the best path forward.
"For all of its challenges, 2020 was still a tremendous year for LiquidPixels and especially for our Professional Services Division," said Steve Kristy, CEO, LiquidPixels. "There are several imaging offerings on the market, but when imagery is mission critical to marketing, to sales, and to the bottom line, companies choose LiquidPixels solutions to make them stand above their competition. Our Professional Services Division brings decades of expertise performing LiquiFire OS implementations to every project."
For more information, please visit http://www.liquidpixels.com/professional-services.
About LiquidPixels
LiquidPixels is the world's only provider of enterprise-class dynamic imaging solutions. Built on open standards, our LiquiFire Dynamic Imaging Solutions integrate into existing web and workflow environments, enhancing product creation, and visualization while reducing production costs. Founded in 2000, LiquidPixels makes its patented technology available as a cloud service or via on-site enterprise servers with solutions that may be tailored to each of our customers' unique needs. For more information, visit us at LiquidPixels.com.
Contact: Bruce G. Owens, Jr.
Email: sales@liquidpixels.com
Phone: 866-808-4937 (x307)
LiquiFire® is a registered trademark of LiquidPixels, Inc. For the full list of trademarks and patents, visit liquidpixels.com/legal.
© 2021 LiquidPixels Inc. All rights reserved.
###