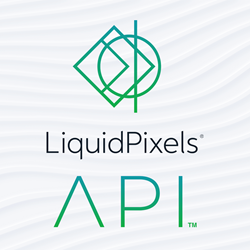 This is a tremendous technological leap forward for the company.
ROCHESTER, N.Y. (PRWEB) March 24, 2021
LiquidPixels®, the premier provider of enterprise class dynamic imaging solutions to the largest retailers in the world, today announced the launch of a new application programming interface (API). This gives LiquidPixels end users greater control over data, the flexibility to analyze and integrate with other systems, and a fully transparent view into their usage.
Using the new API, LiquidPixels clients can more richly integrate LiquidPixels services into their environments, allowing direct operational access to information such as usage metrics, cache management, data and record management, and account management.
Forming the backbone of LiquidPixels own infrastructure, the API seamlessly unifies the LiquidPixels Client Support Portal, knowledge base, and other sites. Clients will enjoy expanded insights into LiquidPixels solutions, including LiquiFire® Cloud™, LiquiFire Hosted Service™, LiquiFire Imaging Server™, and LiquiFire Managed Hosting™.
"Providing direct access to our infrastructure, including the ability to manage services themselves, our new API empowers our user base to leverage imaging even more richly and transparently," said LiquidPixels CTO and co-founder, Marc Spencer. "This is a tremendous technological leap forward for the company, as it connects our services together through a single interface so our clients can enjoy the benefits of our full suite of solutions."
About LiquidPixels
LiquidPixels is the world's only provider of enterprise-class dynamic imaging solutions. Built on open standards, our LiquiFire Dynamic Imaging Solutions integrate into existing web and workflow environments, enhancing product creation, and visualization while reducing production costs. Founded in 2000, LiquidPixels makes its patented technology available as a cloud service or via on-site enterprise servers with solutions that may be tailored to each of our customers' unique needs. For more information, visit us at LiquidPixels.com.
Contact: Bruce G. Owens, Jr.
Email: sales@liquidpixels.com
Phone: 866-808-4937 (x307)
LiquiFire® is a registered trademark of LiquidPixels, Inc. For the full list of trademarks and patents, visit liquidpixels.com/legal.
© 2021 LiquidPixels Inc. All rights reserved.
###