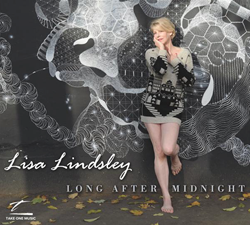 Living and creating on two different continents, America and France, is not easy, but the magic that flies when we are together is just heaven. ~ Lisa Lindsley
(PRWEB) August 08, 2017
Lisa Lindsley is a very unique talent indeed; it seems she is one that seeks out music, which she molds into a message of her own emotional centerpiece. There is a confidence that is sparked in her, creating a synergy with her musicians that elevates our looking and listening into life itself as well as our relationships, all with a natural flare, giving and taking from each song an approach of relaxed phrasing.
Lindsley doesn't waste any time sharing the music she has gathered on her jazz journey. With its echoes of Thelonious Monk's iconic ballad "Round Midnight," James Wilson and Tricia Lee Sampson's lovely "Long After Midnight" offers an alluring invitation to a seductive night-time world that pulses with the heartbeat of Chambers' imposing bass. The title track of the quartet's 2016 release, Long After Midnight, charted for three weeks on the U.S. FMQB Top 40, and remained in the Top 5 slot for seven weeks on the CMJ Jazz charts.
Jazz journalist Andrew Gilbert says of 'Long After Midnight', "It's an album for blissful late-night listening that leaves you wondering what the next day has to offer." 
"A truly sultry singer who captures the evening mood with gusto, Lisa Lindsley casts a musical spell on 'Long After Midnight', voicing beautiful love songs from the city for lovers, for the lover in all of us."  Edward Blanco – All About Jazz
"Lisa Lindsley has a unique style all her own and is not afraid to show it, her originality and phrasing leave the listener spell-bound as to the vocal destinations she takes you to. Her engaging smokey soprano voicings coupled with a tightly cohesive band, musically conversing, taking these international melodic jazz musings to a new height in the presentation of standards that become all her own", says Jaijai Jackson of The Jazz Network Worldwide social network.
"Wouldn't It Be Loverly" is an intriguing tribute to film musicals, delivered with heady arrangements, swinging tempos and flawless musicianship. Working with a stellar coterie of Parisian players, she delivers an irresistible program featuring pianist Laurent Marode, drummer Mourad Benhammou, Esaie Cid on flute, clarinet and tenor saxophone, and Bay Area bass master Jeff Chambers (the Paris session's only ringer).  Lindsley invites listeners to surrender to her smoky soprano, while her vocal command and deft timing assure they will be delighted they did. "Living and creating on two different continents, America and France, is not easy, but the magic that flies when we are together is just heaven. We created this CD in one 8 hour session, just like they use to in the old days. It was difficult to decide which songs, so we just went with our all time favorites and came up with a collection of beloved songs," says Lisa.
 
La Belle Epoque will tour the U.S. and Europe, fall of 2017. They are scheduled to record their next album in October during their tour in France.
Lindsley's goal is to reach jazz stages worldwide with her artistry and to exercise her philanthropic heart in fundraising efforts of ambassadorship to non-profit organizations that are meaningful to her life and the lives of children.
Catch Lisa Lindsley's feature on http://thejazznetworkworldwide.com this week, as well as visit her official websites http://www.LisaLindsley.com and http://www.JazzLaBelleEpoque.com to listen, purchase and learn more.