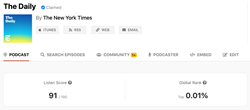 SAN FRANCISCO (PRWEB) November 02, 2020
Leading podcast search engine Listen Notes, which is used by over 1 million people every month, is pleased to announce the launch of a new feature called Listen Score that estimates the popularity of a podcast.
Listen Notes is a free tool that allows people to easily search podcast episodes surrounding a specific topic or person without the need to subscribe, scrub and scroll through hours of audio. Now, visitors to the site can utilize Listen Score to see the estimated popularity of a podcast compared to all other RSS-based public podcasts in the world on a scale from 0 to 100, which is displayed on the podcast page, e.g., https://lnns.co/PJvHrpcL7GO.
Using first- and third-party data, Listen Notes developed a model to calculate a simple numerical value to represent a podcast's popularity. Listen Score was already being used as a signal in the search result ranking algorithm. Now, the metric is fulfilling a strong need to evaluate how popular a podcast is:

Advertising/PR/marketing executives want to know if a particular podcast is worth pitching.
Listeners want to know if a podcast is worth the time to listen to.
A celebrity/influencer/CEO who receives an interview request from a podcast wants to know how popular it is.
Podcast apps/websites want to recommend podcasts based on the perceived quality/popularity.
"To represent the estimated popularity of a podcast, we were inspired by standardized metrics such as credit score. Credit bureaus like TransUnion and Equifax collect information about a person and come up with a numerical value to represent the creditworthiness of the individual. For now, Listen Score is available on listennotes.com for podcasts ranked in the top 10% of all 1.7 million podcasts (as of October 2020). We'll make Listen Score available via our podcast API and other data products soon," said Listen Notes Founder & CEO Wenbin Fang.
About Listen Notes
Listen Notes is dedicated to building the most comprehensive podcast database. Listen Notes has a popular podcast search engine website at listennotes.com, which is like Google but for podcasts. Listen Notes also offers a powerful yet easy to use podcast API for developers. As of October 2020, 2,000 apps and websites use the Listen Notes API to access all RSS-based public podcasts across the world. Listen Notes, Inc., was founded by Wenbin Fang in October 2017. The company is based in San Francisco, California. To learn more, visit listennotes.com.