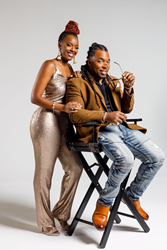 LOS ANGELES (PRWEB) October 04, 2019
For writers of African American Romance, the LiT Short Story Contest is an unparalleled opportunity. Initiated by top urban romance authors Porscha Sterling and Leo Sullivan, the LiT Short Story Contest is now open for entries. The contest promises thousands of dollars in cash and prizes for the winning authors — as well as some prize opportunities for readers — and the opportunity for all contestants to have their work featured on the LiT Reading App and receive direct feedback from the judges.
In order to be considered, contestants must submit short stories in the genre of African American romance (can be urban, contemporary, paranormal, historical, etc.). The story must be 20-25k words and must not be currently or previously published. The 1st place winner will receive a grand prize of $2000 in cash, a $1299 valued self-publishing package, an interview conducted by the LiT Admin Team, and a copy of Scrivener. Depending on participation, cash prize amounts could even double.
LiT Reading App is a marketplace app for avid readers searching for new authors and new books. It's designed to provide the opportunity for emerging independent authors to get their work in front of new audiences. The app was recently launched by renowned, "Bad Boys Do It Better" author Porscha Sterling and Leo Sullivan, the author of the national bestselling book, "Life". LiT Reading App celebrates diverse voices among authors and readers.
To enter the contest, writers can head to litreadingapp.com and click on Become a LiT Writer, choosing "LiT Short Story Contest" as the genre.
About Porscha Sterling
Porscha Sterling is an Atlanta, GA based author, publisher, entrepreneur, and influencer. She's best known for her breakout hit novel series, "Bad Boys Do It Better." Her debut novel, "3 Queens" was released in 2014. Shortly after, Porscha launched her publishing company, Royalty Publishing House, which quickly became the #1 woman-owned, independent publishing company in the nation. Her work has won numerous awards including being the 2019 Literary Honoree for the Kimmie Awards by Sheen Magazine. She just produced her first feature film for Amazon with more films on the way.