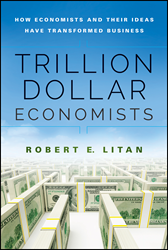 Full of interviews with leading economists and industry leaders, "Trillion Dollar Economists" showcases the innovations that have built modern business and policy.
(PRWEB) September 22, 2014
A trillion dollars, and most likely more – that's how much economists contribute to the U.S. economy, but most people aren't aware of that fact by reading the jokes and criticisms (some of it fair) about economists in the media. In his new book, "Trillion Dollar Economists: How Economists and Their Ideas have Transformed Business," one of the nation's leading policy analysts, Robert Litan, explains with lucidity and precision how the insights of many economists, mainly over the past fifty years, have actually helped to revolutionize business, resulting in huge benefits for companies and consumers.
"Trillion Dollar Economists" explores the prize-winning ideas that have shaped business decisions, business models, and government policies, expanding the popular idea of the economist's role from one of forecaster to one of innovator. The book describes the ways in which economists have helped shape the world. Litan discusses how economists think about the world and the pace of future innovation leads to an examination of the role, importance, and limits of the market, and economists' contributions to business and policy in the past, present, and future.
"Economists do much more than explain how economies do or should work. In many cases, their ideas have helped new and established firms launch new businesses or develop different ways of making money," Litan adds. "In other cases, their ideas have shaped government policies, which in turn, have either created opportunities for new business ideas, or have had powerful impacts on the landscape on which firms compete. Some of these ideas have been so well noted that their originators have received one of the two most prestigious prizes for economic thought, the Nobel or the Clark Medal."
Full of interviews with leading economists and industry leaders, "Trillion Dollar Economists" showcases the innovations that have built modern business and policy with insight such as:

The basics of economics and the innovation of economists, including market failures and the macro-micro distinction
The true power of economic ideas when used directly in business, as exemplified by Priceline and Google
How economists contributed to policy platforms in transportation, energy, telecommunication, and more
The future of economics in business applications, and the policy ideas, challenges, and implications
Few economists actually forecast the economy's performance. Instead, the bulk of the profession is concerned with how markets work, and how they can be made more efficient and productive to generate the things people want to buy for a better life
"Economists and their ideas are embedded throughout the economy, Internet-based companies (even on-line dating sites), and increasingly in sports. Whether they know it or not, Internet retailers owe their existence to economists who in earlier decades helped convince policy makers to remove limits on prices and entry into the transportation business, while providing much of the intellectual impetus for breaking up the telephone monopoly that otherwise most likely would have inhibited the growth of the Internet," says Litan. "Similarly, consumers and businesses that have benefited from the oil and gas boom have economists to thank for convincing policy makers to remove energy price controls. Investors in indexed mutual funds and other financial products are in debt to entrepreneurs who got their ideas or inspiration from financial economists."
Economists have helped firms launch new businesses, established new ways of making money, and shaped government policy to create new opportunities and a new landscape on which businesses compete. Trillion Dollar Economists provides a comprehensive exploration of these contributions, and a detailed look at innovation to come.
About the Author
Robert Litan has spent four decades publishing over 25 books and more than 200 articles about the U.S. economy and has directed economic research at some of the nation's leading research organizations in both the for-profit and non-profit sectors: the Brookings Institution, the Kauffman Foundation, and Bloomberg Government. He is currently a non-resident senior fellow at the Brookings Institution, Of Counsel to the law firm of Korein Tillery (St. Louis and Chicago), and Chief Economist of Main Street Genome, a new company providing analytics to small companies. He is also a regular contributor to Wall Street Journal's "Think Tank" blog.
###