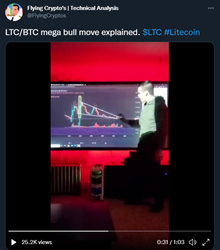 NEW YORK (PRWEB) November 16, 2021
Market Analyist @FlyingCryptos on Twitter, in the video here which garnered over 25K views, explains his outlook on the LTC/BTC chart. Looking at the monthly timeframe, Litecoin has developed a multi-year falling wedge pattern since the end of 2017. This pattern is coming to an end as the wedge has tightened so much. Since the post of this video on November 3rd, Litecoin has seen a rise of over 32% on the LTC/BTC pairing and is expected to continue. If the breakout hit's the predicted target, FlyingCryptos expects a price of $1,000 or higher in the soon future. If this prediction plays out, it would be more than a 300% increase from it's current trading price at $276.89 on November 14th 2021.
More about Flying Cryptos:
Flying Cryptos has been a day trader since 2016 and has actively shared updates relating to Litecoin and analysis on the USD and LTC/BTC parings. A podcast with Flying Cryptos and renowned Coin Vigilante, the creator of the Bitcoin and Litecoin watch will be held soon. Coin Vigilante has interviewed the biggest names in the crypto space including the creator of Litecoin, Charlie Lee. Check for updates regarding this on Flying Crypto's Twitter Page.
It is important to note that the content shared by Flying Cryptos is not to be considered as Financial Advice.