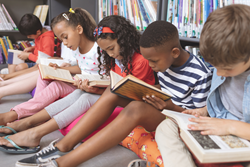 "Book access is an issue of social justice, and today's inequity is both inexcusable and highly preventable."
RYE, N.Y. (PRWEB) February 11, 2021
End Book Deserts, http://www.endbookdeserts.com, has announced the 2021 End Book Deserts Virtual Event, the first national event about book culture, equity, and access, to take place August 8-9, 2021. End Book Deserts, a website and podcast created to shine the light on challenges to literacy development in underserved communities, believes that all children—regardless of their zip code—deserve access to books and reading culture. This event will bring together people and programs who aim to get books into the hands of children and promote literacy. As schools and libraries have been shuttered in the pandemic, access to books has become an even more pressing issue.
"Book access is an issue of social justice, and today's inequity is both inexcusable and highly preventable," says Dr. Molly Ness, founder of End Book Deserts. Ness, an associate professor at Fordham University, cites research showing that "thirty-two million American children live in 'book deserts,' high-poverty areas where reading materials are scarce. Access to books during early childhood has been shown to have an immediate and long-term effect on vocabulary, background knowledge, and comprehension. Children living in book deserts struggle to develop early literacy skills, read at grade level, and embrace the joy of lifelong reading."
Who Should Attend the End Book Deserts Virtual Event? Any individual or organization that promotes innovative programs and approaches for providing book access in our nation's underserved or overlooked populations, including low-income, marginalized communities.
Benefits of Attending:
The End Book Deserts Virtual Event will meet over two days, Sunday, August 8th and Monday, August 9th, beginning at 10 a.m. EST. Over five hundred teachers, librarians, authors, publishers, researchers, and nonprofits are expected.
Reasons to attend include:

To connect with other "literacy warriors" nationwide who aim to end book deserts.
To learn alongside and from literacy leaders who face similar challenges.
To join a nationwide movement aiming to increase awareness about book deserts.
To reduce the isolation you may feel, as other conferences and organizations are not uniquely tailored towards your work and mission.
Registration is now open for this one-of-a-kind event. To sign up, go to the event registration page.
About End Book Deserts: End Book Deserts is the brainchild of Dr. Molly Ness, who had the great fortune of growing up in a literacy-rich community. As a former classroom teacher, a teacher educator, and a self-professed book nerd, she embraces book access as a fundamental component in growing lifelong readers. Amazed and inspired by the work of literacy innovators, she created End Book Deserts to shine the spotlight on those building book oases in high-poverty communities. Her aim in the End Book Deserts podcast is to raise awareness and share the collective stories so that others might eliminate book deserts in their communities. For more information, visit http://www.endbookdeserts.com or e-mail Dr. Ness at molly@drmollyness.com.
For more information, or to schedule an interview, please contact Willy Wood, willy@edconsultantmarketing.com, 573 356-1572