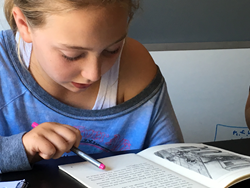 "This is our way to give back at a wider scale, and provide the tools, professional development, and curriculum-based in the science of reading needed to teach any child to read."
SAN FRANCISCO (PRWEB) March 04, 2021
In an effort to maximize impact to reading educators and in turn, emerging readers, the nonprofit literacy center LearnUp is offering a reduced-cost workshop to train anyone — educators, paraprofessionals, community members, parents, etc. — to teach children to read.
In light of the COVID-19 pandemic, LearnUp shifted its in-person classes to an online pilot program last May. After 1,000 people signed up, LearnUp decided to offer a new 20-hour program under a pay-what-you-can model, with a goal of reaching 5,000 people around the world. By shifting its educational workshops online and providing them at a lower cost, LearnUp can offer the widest impact to educators, and in turn, children's literacy.
"Educators are facing unprecedented challenges in supporting our children's reading needs," said LearnUp Executive Director Steve Hagler. "This is our way to give back at a wider scale, and provide the tools, professional development, and curriculum-based in the science of reading needed to teach any child to read."
LearnUp uses a multidisciplinary structured curriculum with proprietary chapter books for students to practice reading concepts. A typical lesson includes work on phonics, syllables, words, reading, comprehension, and writing in a tailored sequence designed to maximize retention.
The strength of the program is two-fold: it enables anyone to master teaching children to read, and it enables children to begin reading at an accelerated pace.
In as little as three months, the average LearnUp student:

Increases word fluency by more than 50%
Gains over 44 words per minute in fluency
Jumps two grade levels in reading
The workshop will train educators to follow the LearnUp curriculum and thoroughly understand the theory and practice of teaching reading, from phonics to comprehension. Participants will also learn:

Structured literacy/phonics, comprehension, spelling, writing, and reading
Instructional variables to teach all types and ages of learners; and different populations
The two-hour daily classes, 20 sessions in total, are designed to provide participants with efficient instruction so that they can work with any level of reader and put their knowledge into practice immediately. After the workshop, participants will be invited to weekly Q&A sessions with Steve Tattum, founder of the reading program, to discuss implementation best practices, and learn and connect with the LearnUp community.
Class begins March 15 and runs each weekday through March 26. Classes are live and held over Zoom. Registration is currently open. To sign up, visit http://bit.ly/readingworkshopmarch21
LearnUp was founded in 2016 to change how we teach all levels and types of learners to read. For more information about LearnUp, visit https://www.learnupcenters.org/