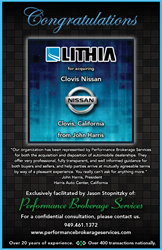 They offer very professional, fully transparent, and well informed guidance for both buyers and sellers, and help parties arrive at mutually agreeable terms by way of a pleasant experience. You really can't ask for anything more. - John Harris
Irvine, California (PRWEB) October 17, 2014
Performance Brokerage Services, a new car dealership broker, announces the successful sale of Clovis Nissan in Clovis, California from Mr. John Harris to Lithia Motors, Inc.
Lithia Motors, Inc. is a public company headquartered in Medford, Oregon with over 100 retail locations throughout 14 states, offering 30 franchises for new vehicles. Clovis Nissan is located at 370 West Herndon Avenue in Clovis, California. The dealership has been renamed to Lithia Nissan of Clovis.
Less than 10 miles away from the recent acquisition, in the city of Fresno, Lithia Motors, Inc. owns and operates 7 dealerships with franchises including Ford, Lincoln, Nissan, Hyundai, Volvo, Mazda, Subaru and Mitsubishi. President of Lithia Motors, Inc., Bryan DeBoer stated "We are pleased to add to our Nissan portfolio in the central valley of California. Lithia Nissan will complement our Fresno location as we cluster locations in the greater Fresno market area. We are pleased to welcome the newest members of the store to the Lithia family."
Thankful for the assistance from Performance Brokerage Services to sell his car dealership, Mr. John Harris commented, "Our organization has been represented by Performance Brokerage Services for both the acquisition and disposition of automobile dealerships. They offer very professional, fully transparent, and well informed guidance for both buyers and sellers, and help parties arrive at mutually agreeable terms by way of a pleasant experience. You really can't ask for anything more." John Harris will continue to operate Harris Infiniti in Fresno and Santa Maria Chrysler Dodge Jeep Ram.
Jason Stopnitzky, a Partner at Performance Brokerage Services and the representative for this transaction stated, "This transaction was a perfect example of how good faith negotiations can result in a win-win for both the buyer and the seller. We thank Mr. Harris for the opportunity to represent his family in the sale of his car dealership and wish him continued success in operating Fresno Infiniti and his Chrysler Dodge Jeep Ram dealership in Santa Maria. We congratulate Lithia on their purchase and are confident that it will enhance their Fresno market portfolio."
About Performance Brokerage Services
Performance Brokerage Services, an auto dealership broker firm, specializes in professional intermediary services to buyers and sellers of automotive, Harley-Davidson and Powersports dealerships.
The company offers a different approach to the automotive brokerage industry by providing free dealership assessments, no upfront fees, no reimbursement of costs and is paid a success fee only. Performance Brokerage Services gets paid only after the client gets paid.
With over 23 years of experience, the company utilizes an extensive network of industry related accountants, attorneys, hundreds of registered buyers and enjoys longstanding relationships with most of the auto manufacturers. The mediators at Performance Brokerage Services have been involved in well over 400 transactions.
With corporate offices located at 7545 Irvine Center Drive, Suite 200, Irvine, CA 92618 and three satellite offices in Utah, Florida and New Jersey, Performance Brokerage Services provides national exposure with local representation. Pledging loyal and unwavering representation, confidentiality is vigilantly protected during the selling process and after the transaction closes.
For more information about the services offered by Performance Brokerage Services, visit http://www.performancebrokerageservices.com.