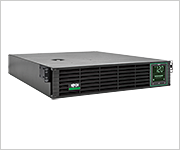 "Lithium delivers much more predictable service life than lead acid and, once power is restored, rapidly recharges to be ready to respond to subsequent outages."
CHICAGO (PRWEB) June 14, 2019
Tripp Lite, a world-leading manufacturer of power and connectivity solutions, has made power protection for critical IT infrastructure easier to manage with four new UPS systems in its SmartPro® series. These line-interactive rack-mount models contain lithium iron phosphate (LiFePO4) batteries, a class of lithium-ion technology with high heat resistance that weighs 60% less and provides greater longevity than equivalent lead-acid batteries. These UPS models offer a "fit and forget" solution that is ideal for edge computing and other applications demanding years of maintenance-free service.
Batteries in these Tripp Lite UPS systems can recharge to 100% capacity in as little as 1.5 hours, compared to the 24 hours it typically takes for a lead-acid counterpart.
"This is a game changer for power protection in applications where blackouts and brownouts are recurring threats," said David Slotten, Tripp Lite's Vice President of Product Marketing. "Lithium delivers much more predictable service life than lead acid and, once power is restored, rapidly recharges to be ready to respond to subsequent outages."
IT professionals who are tired of the maintenance demands of their lead-acid battery UPS systems will appreciate the simpler requirements from these models. Their built-in battery management system (BMS) automatically monitors and controls energy flow in the battery pack, helping it last longer and ensuring safety. The UPS systems can be managed remotely as network devices and have the support of a 5-year standard warranty.
Key Features of Tripp Lite's Lithium-Ion UPS Systems:

LiFePO4 batteries perform more safely in extreme temperatures than other types of lithium-ion batteries
Longer lifespan and more charge/discharge cycles than equivalent lead-acid batteries
Remote management capability
60% lighter than equivalent lead-acid batteries
Self-regulating internal battery management system (BMS)
Models available from 1kVA to 3 kVA capacity
Surge protection and automatic voltage regulation (AVR)
5-year warranty
Get more information about Tripp Lite's full line of single-phase UPS systems at tripplite.com.
Media Contact
Samantha Casey
Senior Digital Marketing Specialist
773.869.1258
samantha_casey(at)tripplite(dot)com
About Tripp Lite
Since 1922, Tripp Lite has established a global reputation for quality by providing reliable products and exceptional service to customers worldwide. From desktop to critical infrastructure, Tripp Lite products and solutions power and connect the computers, networking equipment and electronic devices that form the foundation of our digital world. Headquartered in Chicago, Tripp Lite manufactures UPS systems, cables, connectivity solutions, PDUs, racks, cooling solutions, KVM switches, console servers, charging stations, display mounts, surge protectors, power strips, network switches, power inverters and specialty products for data center, healthcare, government, education and digital signage applications. Learn more at https://www.tripplite.com.
https://www.tripplite.com * 1.773.869.1776