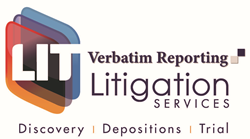 LAS VEGAS (PRWEB) January 14, 2020
For over 31 years, Verbatim Reporting Service has been highly regarded and trusted to deliver the best court reporting and support services in Sonoma and Marin Counties and all the surrounding areas, including Ukiah, Windsor, Healdsburg, Santa Rosa, Rohnert Park, Cotati, Petaluma, Napa, Novato, San Rafael and San Francisco. Partners Denise Veirs and Roseanna Spinale, will continue to be part of Litigation Services Verbatim Team.
According to Ali Rizvi, the acquisition of Verbatim Reporting Service has strategic importance for Litigation Services. "Recruiting new Court Reporters is challenging." Said Ali, "There is a severe shortage of Court Reporters, mostly in the States of California and Texas. The demand for qualified court reporters is higher than ever. We are acquiring a dynamic company and a very talented, much respected team of court reporters to alleviate the shortage problem, within the areas served. This acquisition is effective immediately.
ABOUT LITIGATION SERVICES
Litigation Services LLC creates exceptional value and cost-efficiency for its clients through centralized discovery management for complex litigation matters. The firm is a swiftly emerging industry leader in providing services that include document processing, court reporting, legal video, trial services, complex case management; as well as ESI collection, processing, and production. Founded in 1999, the company has experienced an impressive revenue growth over the last several years, the firm has coast-to-coast presence.
More information about Litigation Services is available at http://www.litigationservices.com.