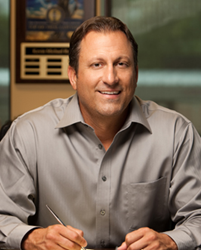 Lerner and Rowe, P.C. is honored to have been named a 2014 Litigator Award winner
Phoenix, AZ. (PRWEB) January 16, 2015
The Arizona law offices of Lerner and Rowe, P.C. are pleased to announce the law firm was nominated for and named as a 2014 Litigator Award winner. This honor of distinction is awarded to law firms whose lawyers are ranked among the top 1% of lawyers in the entire nation who have triumphed in winning million, multi-million, or billion dollar cases. Lerner and Rowe, P.C. was selected as a winner based on their litigation achievements within the legal specialty areas of personal injury, automobile accident litigation, wrongful death, motorcycle accident, and brain injury.
"All of the long hours and hard work of a trial lawyer are definitely worth it, knowing that you've been able to assist people who have been injured get compensation that may help ease their recovery," stated Personal Injury Attorney Kevin Rowe. "Our law firm is honored to have been named a 2014 Litigator Award winner."
The Litigator Awards have built a reputation as being one of the strictest, openly judged trial-lawyer rating competitions. A nomination committee carefully selects award winners through use of a reliable and unbiased proprietary based rating system that includes proven litigation achievements within the last 20 years prior to their nomination. Learn more about the extraordinary benchmarks of achievements that were required to be named a 2014 Litigation Award winner online at LitigatorAwards.com, or contact Amy G. Harris by calling 1(800) 992-9049 or via email at AHarris(at)LitigatorAwards(dot)com.
More about Lerner and Rowe, P.C.
Lerner and Rowe diversified the legal services their law offices provide in the spring of 2012 by opening Lerner and Rowe Law Group. The new addition makes it possible for the firm to now represent clients with personal injury, medical malpractice, criminal and DUI defense, bankruptcy, social security applications and appeals, real estate related cases, with offices in Phoenix, Mesa, Glendale, Bullhead City, and Tucson (offices opening soon in Chandler and Peoria). For additional information about Lerner and Rowe Injury Attorneys, visit lernerandrowe.com or call (602) 977-1900. To learn more about the Lerner and Rowe Law Group, visit lernerandrowelawgroup.com or call (602) 667-7777.
To connect with the law firm socially, follow Lerner and Rowe on Twitter, or become a fan of their Facebook page. You may also visit lernerandrowegivesback.com to learn more about the community services that the lawyers and legal support team of Lerner and Rowe actively support.
###
CONTACT:
Kevin Rowe, Esq.
Lerner and Rowe, P.C.
(602) 977-1900