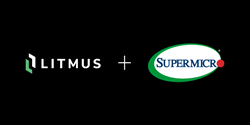 SAN JOSE, Calif. (PRWEB) October 14, 2020
Litmus, the Intelligent Edge Computing company, today announced a collaboration with Super Micro Computer, Inc. (SMCI), a global leader in enterprise computing, storage, networking solutions, and green computing technology on a smart manufacturing solution combining Supermicro's fanless edge computing devices and the Litmus Edge platform. The collaboration provides customers with the hardware, software, services and capabilities to enable smart manufacturing with accelerated time-to-value.
Litmus Edge is the only flexible and scalable edge platform that provides the data connectivity needed to collect, analyze, manage and integrate asset data at scale. Together with Supermicro's powerful, fanless IoT/Edge gateways, the solution is pre-validated, pre-tested and accelerates the value customers can get from edge computing for immediate business value across the enterprise.
"The Litmus/Supermicro collaboration allows customers to add powerful hardware and software to quickly and easily liberate data on the factory floor," said John Younes, co-founder and COO, Litmus. "Manufacturers can open the combined solution, set it up in minutes with no coding, and launch a smart manufacturing initiative in under thirty days. We provide everything they need to compute and take action on the data on-premise for immediate value, or send the data to the cloud for further processing."
Supermicro's broad line of fanless IoT gateways provides customers with a secure, scalable, resilient and flexible edge to cloud infrastructure. The joint Litmus and Supermicro offering is based on Supermicro's versatile E100, a small yet powerful fanless IoT/Edge gateway server. The E100 combined with Litmus Edge delivers the hardware, software, drivers and analytics customers need to implement smart manufacturing out-of-the-box. Litmus Edge includes an industry-leading driver library, pre-built KPIs for use cases such as OEE, asset uptime and downtime, and pre-built integrations with leading cloud, big data and enterprise applications.
"Digital transformation is leading to the creation of more data that needs to be processed at the edge in an agile, secure, reliable and resilient manner for better operational and business decisions," said Raju Penumatcha, senior vice president and chief product officer, Supermicro. "Our collaboration with Litmus offers a cost effective, complete hardware and software solution that enables our customers to address the challenges of smart manufacturing in the transition to Industry 4.0."
About Litmus
Litmus is the only flexible and scalable edge platform for smart industry that collects, analyzes, manages and integrates industrial asset data to increase asset visibility, performance and uptime at scale. With more than 250 pre-built drivers, Litmus Edge connects to every data source to provide a complete data picture for Industry 4.0 use cases ranging from Smart Manufacturing to Industrial IoT and Machine Learning. Customers include 10+ Fortune 500 manufacturing companies, while partners like Siemens, HPE, Intel and SNC Lavalin expand the Company's path to market. For more information visit http://www.litmus.io.