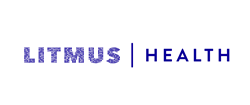 Litmus was a particularly strong fit for the contract since its existing platform is being built to similar specifications and has already achieved initial market traction with a 500 patient, 3-year study funded by Takeda Pharmaceuticals.
NEW YORK (PRWEB) November 15, 2018
Litmus Health, the research-ready infrastructure platform for real world data, today announced that the company has been awarded a $225,000 Phase I Small Business Innovation Research (SBIR) contract from the National Cancer Institute (NCI) of the National Institutes of Health (NIH).
The pursuit of useful, well-structured data gathered outside the clinic has been a longstanding priority in the pharma industry. Increasingly, digital endpoints can be used to indicate outcomes in between office visits in early-stage clinical trials and large-scale observational studies alike.
Litmus is built to capture and position data from wearables, smart devices, and home sensors in a way that makes it easy to conduct subsequent analysis and auditing. Litmus is standards-based and compatible with common data science toolsets and EDC systems.
The NCI SBIR solicitation called for "a centralized software platform to obtain wearable, implantable, and/or external device data and to facilitate analytics over multiple data streams to help aid cancer patients, clinician assessment, and clinical trial design" and invited small businesses to submit their proposals for the development of such a solution.
Increasingly, innovative clinical trials are using wearables in order to collect real world data. As of 2016, close to 300 clinical trials had wearables incorporated into their studies.
"We're grateful that in the NIH we've found a partner that is equally as committed to helping clinicians and researchers evidence the full value of real-world data," said Dr. Sam Volchenboum, co-founder and Chief Medical Officer of Litmus Health. "It is rare to be awarded a contract that so perfectly matches a company's mission and technology foundation. It's encouraging that the entire industry – researchers, regulators, pharma, and technologists – is aligned on a vision for the future that heavily incorporates wearables and sensors into clinical trials to speed the pace of research and allow for the development of novel digital endpoints."
Litmus was a particularly strong fit since its existing platform is being built to similar specifications and has already achieved initial market traction with a 500 patient, 3-year study funded by Takeda Pharmaceuticals and run by Dr. David Rubin's Digestive Diseases Center at the University of Chicago.
Litmus' work with Takeda and the University of Chicago has enabled the company to gather reliable data from smartphones and Fitbits to help better understand the relationship between sleep, activity and flares in Crohn's and Colitis patients. This partnership demonstrated the capabilities of the Litmus platform, collecting, positioning, and parsing information that will eventually be used to better predict disease.
"Leveraging real world data in modern research is critical. Litmus has a compelling candidate technology in development," says Samuel Blackman, MD, PhD, Head of Clinical Development at Mavupharma, Inc. "We need better data engineering to ensure wearables and remote sensors can be used to improve the drug development process. Often data science gets all the headlines, but it's the unglamorous work of shaping, positioning, augmenting, and auditing data that is holding us all back. The award of this contract signifies that Litmus has the sophistication and execution to deliver the results we're all hoping for."
In conjunction with the announcement, Litmus published the company's first ever Device Census Report, which profiles the wrist and body-word wearables market, comprised of over 170 brands and manufacturers. The report recommends the top 15 devices for clinical research based on a detailed scoring rubric.
The Device Census Report is available to the public on the Litmus website. The report will be updated quarterly; subsequent volumes will focus on other sensor classes. As part of the SBIR program, a full, updated, free and publicly-available database of the Device Census results will be made available via a web application in early 2019.
To download the report, please visit: https://bit.ly/2TeqC12
With the Device Census Report, clinical researchers now have a definitive source to assist with device selection and comparison, assembled and maintained by experts with experience integrating wearables into studies and trials.
"The most important criteria always have been and will be the same," said Litmus co-founder Josh Jones-Dilworth, who runs sales, marketing, and business development. "Can the researcher access raw data that has not yet been transformed by proprietary, black box algorithms? Is data provenance available in accordance with 21 CFR Part 11 requirements? Does the device measure along multiple simultaneous dimensions? And are the form factor, battery life, and comfort of the device viable for adherence?"
The device report follows fast on the heels of a survey paper titled "Use of Wearable, Mobile, and Sensor Technology in Cancer Clinical Trials," which was authored by Litmus team members Sam Volchenboum, Suzanne Cox and Ashley Lane, and published in the American Society of Clinical Oncology's Journal of Clinical Oncology (JCO).
To download a fully licensed reproduction of the JCO article, please visit: http://ascopubs.org/doi/abs/10.1200/CCI.17.00147.
About Litmus Health
The answers we need are all around us. Litmus Health is research-ready infrastructure for real life data. We help our customers understand patient behavior and environment in multiple dimensions.
We use real life data collected at the point of experience from wearables, smart devices, and home sensors to guide management and to inform both new and traditional endpoints.
We help our customers describe the full value of their work in observational studies, therapeutical trials, and post-market research. From small observational studies to large scale registries, we help researchers unlock fundamentally new insights from remote and telemetric patient data.
To learn more, please visit: litmushealth.com