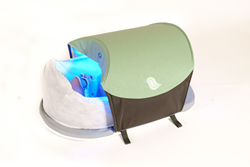 Our practice is very impressed by how effective bili•hut is compared to biliblanket phototherapy in treating jaundice. It is easy to administer, shortens the time required for phototherapy and keeps infants with their families safe at home.
BOSTON (PRWEB) December 14, 2020
Little Sparrows Technologies, a medical startup committed to improving the care and well-being of newborns, announces initial results of a home phototherapy trial of bili•hut™, a next-generation portable LED phototherapy device for neonatal jaundice treatment. In this first series consisting of three infants, bili•hut was deployed directly from a primary care pediatric office following outpatient diagnosis of significant jaundice. The infants were effectively treated at home in an average of 16 total hours of phototherapy treatment and did not require hospital readmission.
Currently conducted in the greater Boston area, the bili•hut trial is designed to deliver hospital intensity phototherapy at home for the treatment of neonatal jaundice (NNJ). Jaundice is the leading reason newborns are readmitted into a hospital. It is a yellow discoloration of the skin and eyes caused by elevation of bilirubin, a breakdown product of red blood cells. Approximately 10 percent of all newborns suffer from elevated bilirubin levels which can cause irreversible brain injury or death if untreated. Phototherapy treatment using high intensity blue light helps with the detoxification of bilirubin, curing nearly all cases of jaundice and preventing brain injury.
"During a pandemic it is more critical than ever to have access to effective and convenient outpatient phototherapy treatment of neonatal jaundice. It keeps infants and families out of the hospital and safe at home," said Dr. Scott Blanchard, senior attending physician at Bulotsky and Associates, a Mass General Brigham Affiliated Pediatric Practice in the greater Boston area using bili•hut.
"Our practice is very impressed by how effective bili•hut is compared to biliblanket phototherapy in treating jaundice. It is easy to administer, shortens the time required for phototherapy and keeps infants with their families safe at home," continued Dr. Blanchard.
Bili•hut™ Trial Results
The first two infants in the trial had blood type mismatch resulting in destruction of infant red blood cells. In less than 48 hours after arriving home from birth, both infants experienced sudden increases of serum bilirubin to ranges meeting the American Academy of Pediatrics criteria for phototherapy treatment, despite reassuring levels during their birth admission. The third infant had neonatal jaundice associated with polycythemia, or high red blood cell count. After receiving two courses of intensive care unit phototherapy during birth admission the infant was discharged home, only to again experience significant elevation of bilirubin 24 hours later.
In consultation with their pediatric office, the parents received a portable bili•hut bassinet and training. The parents were able to effectively administer phototherapy treatment at home. The bili•hut achieved bilirubin reduction rates ranging from 0.35 mg/dL/hr to 0.58/dL/hr, resolving jaundice with an average of 16 total hours of phototherapy.
The results are on par with hospital intensive care unit phototherapy devices despite frequent interruptions in the home setting. They also dramatically outpace the performance of fiberoptic pad devices, or "biliblankets", which can require four or more days of treatment in uncomplicated jaundice cases and are generally inadequate for the more complicated cases seen in the bili•hut trial.
"The early results of our home care bili•hut trial are extremely exciting," said Dr. Donna Brezinski, CEO of Little Sparrows Technologies and a neonatologist. "About 200,000 newborns are readmitted to the hospital in the United States every year for phototherapy treatment. With the efficacy we are seeing with bili•hut, it is very promising that a home treatment option could be available through pediatric offices for the majority of jaundice cases. This would greatly reduce the cost of care and enable better use of hospital resources, while keeping mom and baby together during a critical time of bonding and establishing breastfeeding."
For more information on the bili•hut, visit http://www.little-sparrows-tech.com.
About bili•hut™
Jaundice is the most common diagnosis associated with hospital readmission of newborns, costing the US healthcare system more than $1B annually. Bili•hut™, is a first-of-its-kind portable high-intensity phototherapy device for jaundice treatment offering a unique, arched light configuration that increases skin illumination by at least 50 percent compared to traditional phototherapy devices. Capable of delivering amongst the highest spectral power of any neonatal phototherapy device available, bili•hut offers hospital intensity treatment at the parent's side, whether in the postpartum room or home.
About Little Sparrows Technologies
Founded in 2013 by Harvard Medical School affiliated physicians, Little Sparrows Technologies offers an innovative approach for treating jaundice. Little Sparrows has received two phases of funding from the National Institutes of Health Small Business Innovation Research (SBIR) program as well as from the USAID sponsored Saving Lives at Birth Grand Challenge. Little Sparrows Technologies received a 2018 Patents for Humanity Award recognizing the potential for bili•hut to be a game-changing technology to solve a humanitarian challenge. The company offers solutions to support hospitals, US pediatrician offices and international health care organizations. For more information, http://www.little-sparrows-tech.com.