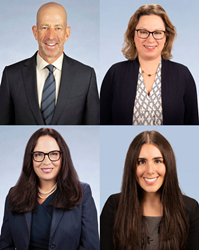 WHITE PLAINS, N.Y. (PRWEB) September 29, 2020
Bernard A. Krooks, JD, CPA, LLM, CELA®, AEP® (Distinguished), Amy C. O'Hara, Esq., and Marion M. Walsh, Esq., partners in the law firm Littman Krooks LLP, have been named by Super Lawyers magazine as top attorneys in New York for 2020. In addition, Stephanie L. Goldstein, Esq., has been named a Rising Star by Super Lawyers magazine.
Their selection is the result of a rigorous, multi-step selection process based on peer recognition, professional achievement as well as independent research on each candidate. Only five percent of the attorneys in New York State earn this distinction.
Krooks is a founding partner of the law firm Littman Krooks LLP and Chair of its Elder Law and Special Needs Department. He is a nationally recognized expert in all aspects of elder law and special needs planning. He is a member of the Estate Planning Hall of Fame by the National Association of Estate Planners & Councils (NAEPC). He is also past President of the Board of Directors of the Arc of Westchester, the largest agency in Westchester County serving people with intellectual and developmental disabilities.
Along with Krooks, O'Hara is recognized as a Certified Elder Law Attorney (CELA) by the National Elder Law Foundation. She is Vice President of the Board of Directors of the Special Needs Alliance, a national organization comprised of attorneys who practice law and advocate for people living with special needs and disabilities, the elderly, and their families. O'Hara is also President of the Board of Directors of Westchester Disabled on the Move, Inc., a not-for-profit organization that aims to improve the quality of life and the rights for all people with disabilities.
Walsh has been named to Super Lawyers in recognition her work in education law. She brings 20 years of experience to the practice and has led the firm's special education department for the past eight years. Walsh has extensive experience in advocacy, impartial hearings, state review proceedings and federal appeals and works tenaciously for clients in all capacities. Much of her practice focuses on assisting students with complex mental health challenges to obtain an appropriate school placement and services. She also serves on the Board of Directors of NAMI Westchester, a not-for-profit organization that aims to support those with mental health conditions and their families.
Goldstein focuses her practice on estate litigation and estate planning as well as guardianship matters. She has extensive experience litigating in New York State Supreme Courts and at all levels of administrative hearings. She received her J.D. from Syracuse University College of Law where she was involved in the Children's Rights and Family Law Clinic. Ms. Goldstein is a member of the Technology Committee of the Westchester County Bar Association.
Read more about the firm here.
About Littman Krooks LLP
Littman Krooks provides sophisticated legal advice and the high level of expertise ordinarily associated with large law firms along with the personal attention and responsiveness of smaller firms. These ingredients, which are the cornerstone of effective representation and are necessary to a successful lawyer/client relationship, have become the foundation of the firm's success.
Littman Krooks LLP offers legal services in several areas of law, including elder law, estate planning, special needs planning, special education advocacy, and corporate and securities. Their offices are located at 399 Knollwood Road, White Plains, New York and 655 Third Avenue, New York, New York. Visit us at http://www.littmankrooks.com.