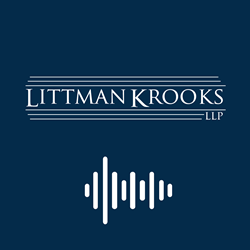 WHITE PLAINS, N.Y. (PRWEB) August 01, 2019
Littman Krooks LLP has expanded the distribution of its podcast series to Spotify, Stitcher, Google Play as well as iTunes. Bernard A. Krooks, managing partner of Littman Krooks LLP, is the host of the podcast. He and his guests discuss a variety of topics pertinent to seniors, individuals with developmental disabilities and their families.
The discussions focus on elder care, asset protection, retirement planning, special education advocacy, and special needs planning. Recent topics include: "Job Skills Development for People with Autism," "Personal Tech & Smart Phones: How to Utilize Apps for People with Special Needs," "Sibling Relationships, Special Needs and Adventure Travel," and "How Do I Talk to My Parents about Getting Help in their Home?"
Learn about the legal, financial and social matters that can help in planning for a secure future by bookmarking the Littman Krooks Podcast Series on one of these platforms:

About Littman Krooks LLP
Littman Krooks LLP provides sophisticated legal advice and the high level of expertise ordinarily associated with large law firms along with the personal attention and responsiveness of smaller firms. These ingredients, which are the cornerstone of effective representation and necessary to a successful lawyer/client relationship, have become the foundation of the firm's success.
Littman Krooks LLP offers legal services in several areas of law, including elder law, estate planning, special needs planning, special education advocacy, and corporate and securities. Their offices are located at 655 Third Avenue, New York, New York and 399 Knollwood Road, White Plains, New York. For more information about Littman Krooks LLP, visit http://www.littmankrooks.com.