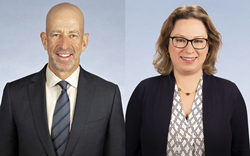 WHITE PLAINS, N.Y. (PRWEB) November 09, 2020
Littman Krooks LLP has been selected among the 2021 U.S. News – Best Lawyers® "Best Law Firms."
The firm, with offices in White Plains and New York City, received this prestigious ranking in the area of Elder Law and Trusts & Estates Law. This recognition results from the firm's combination of legal excellence and breadth of expertise.
The U.S. News - Best Lawyers® "Best Law Firms" rankings are based on a rigorous evaluation process that includes the collection of client and lawyer evaluations, peer review from leading attorneys in their relevant practice areas, and a review of additional information provided by law firms as part of the formal submission process.
To be eligible for this distinction, a law firm must also have at least one lawyer included among the annual peer review assessment of Best Lawyers in America®. For 2021, Best Lawyers in America has recognized Bernard A. Krooks, JD, CPA, LLM, CELA®, AEP® (Distinguished), and Amy C. O'Hara, Esq., partners at Littman Krooks, for excellence in Elder Law and Trusts & Estates.
Krooks was also named as 2021 "Lawyer of the Year" for excellence in Elder Law. He is Chair of the firm's Elder Law and Special Needs Department and is a nationally-recognized expert in all aspects of elder law and special needs planning. He is a member of the NAEPC (National Association of Estate Planners & Councils) Estate Planning Hall of Fame.
This is the first year that O'Hara has been named to Best Lawyers. Along with Krooks, she is recognized as a Certified Elder Law Attorney (CELA®) by the National Elder Law Foundation. She is Treasurer of the Board of Directors of the Special Needs Alliance and is President of the Board of Directors of Westchester Disabled on the Move, Inc.
A listing in Best Lawyers is widely regarded by both clients and legal professionals as a significant honor conferred on a lawyer by his or her peers.
To learn more about Littman Krooks, click here.
About Littman Krooks
Littman Krooks LLP provides sophisticated legal advice and the high level of expertise ordinarily associated with large law firms along with the personal attention and responsiveness of smaller firms. These ingredients, which are the cornerstone of effective representation and are necessary to a successful lawyer/client relationship, have become the foundation of the firm's success.
Littman Krooks LLP offers legal services in several areas of law, including elder law, estate planning, special needs planning, special education advocacy, and corporate and securities. Their offices are located at 655 Third Avenue, New York, New York and 399 Knollwood Road, White Plains, New York. Visit the firm's website at http://www.littmankrooks.com.