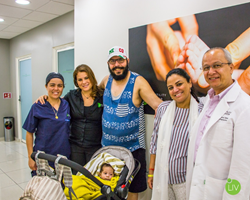 To see them holding a child in their arms is an incredibly emotional feeling.
LOS ANGELES (PRWEB) March 26, 2019
Devastated to discover the medical complications that kept them from conceiving for 15 years, LIV Fertility Center new parents, Iqbal and Kim, are now celebrating the birth of their baby boy after successful IVF in Mexico.
Like so many other couples around the globe, the journey to parenthood for Iqbal and Kim — was not easy. Over a decade of trying to conceive in the United States, the couple had no success and it left them emotionally, physically and financially exhausted.
But after all of those long years of medical difficulties and infertility, their story-book journey — was just beginning.
Success Rates with IVF Mexico —
"We help patients make well-versed decisions and can provide guidance to help them achieve their dreams of parenthood. You never have to endure infertility alone," stated Dr. Francisco Velez, Medical Director of LIV Fertility Center in Puerto Vallarta, Mexico. "We were honored to be a part of Iqbal and Kim's journey. To have them come back to the clinic and celebrate with our team is indescribable. To see them holding a child in their arms is an incredibly emotional feeling."
The LIV Fertility Center is the first and only fertility clinic in Puerto Vallarta dedicated to advanced fertility care and women's wellness — and is now the only licensed lab to offer MicroSort Mexico. The clinic prides itself on being transparent with patients by providing the most current information about treatment options along with the probability of a successful pregnancy associated with each option.
When asked about the IVF success rates, Lead Embryologist Karla Martin del Campo, gave a brief statement. "Because all our data comes from within our own laboratory, considering our advanced technology, expertise, progressive reproductive techniques, and overall experience, our pregnancy success rate is exceptionally high. By providing personalized, evidence-based success rates to patients, we aim to help couples move through the IVF process with as much clarity as possible."
Iqbal and Kim Celebrate Miracle Baby —
It was more apparent than ever. Iqbal and Kim needed a break — an escape from the hurt and pain. They needed each other. "There was no hope for us, so we ended up in Puerto Vallarta for vacation," stated Iqbal Singh.
The couple arrived in Puerto Vallarta, Mexico in 2018 for a much-needed getaway. Little did they know, that getaway would help give them a miracle baby. Exploring the sites and taking a stroll, the couple walked past the LIV Fertility Center. In that moment, Iqbal and Kim, made a decision that would change their entire lives. They decided to take a tour of the LIV Fertility Center and see if the clinic could offer anything they had not already tried. Overwhelmingly impressed with their first visit, the couple never looked back.
"Here we met one of the best best teams ever. If I say start from the reception room to the doctors to the cleaning crew, they were the best and we were so impressed. We decided right away," stated Kim Mahal. Iqbal added, "when we entered the clinic, it was a beautiful place, immaculate shiny place that gives you hope that it's going to be okay."
Today, Iqbal and Kim, are celebrating their 4-month-old baby boy Gursaz — and a love for each other that never faded. The couple returned to the clinic to thank the team members that made it possible — and to show off their handsome bundle of joy!
In an exclusive interview, the couple tells all the ins and outs of IVF in Mexico — from the beginning of their journey to the experience with the LIV staff to the cleanliness of the fertility clinic all the way to the loving heartbeat of their new family. It's a journey you must see for yourself!
Watch the Entire Iqbal and Kim Interview Now
About LIV Fertility Center
The LIV Fertility Center in Puerto Vallarta is a renowned, world-class fertility center that embraces affordability, technical expertise, proven successful outcomes, and the ability to exceed the challenges for every individual case of infertility. Infertility is one of life's most difficult encounters — medically and emotionally. The LIV team is continually striving to implement new infertility technologies and a management structure to embrace patients on their journey to parenthood. The world-class laboratory precisely reflects in the pioneering treatments of In Vitro Fertilization (IVF), Egg Donation, Embryo Cryopreservation, Assisted Hatching, and Gender Selection. LIV invites you to revel in a unique cultural experience in Puerto Vallarta with its year-round stunning climate, gorgeous pristine beaches and a dazzling array of world-class attractions.
LIV Fertility Center Mission
Adhering to a set of core values that characterizes our beliefs, the LIV Fertility Center's mission is to provide affordable, trustworthy and successful fertility support to those we serve on all facets of the globe.