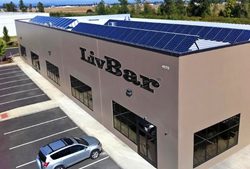 We recognize the incredible role we have in the food system to produce and provide a safe, healthy, and high-quality product to our customers
PORTLAND, Ore. (PRWEB) April 07, 2021
LivBar, the USDA certified organic superfood nutrition bar company, is now certified under the Safe Quality Food (SQF) Food Safety Code for Manufacturing at their solar-powered production facility in Salem, Oregon.
The SQF Program is a comprehensive set of codes that is benchmarked to the Global Food Safety Initiative (GFSI), a collection of rigorous standards and requirements that assure food companies practice food safety management at the same high-quality standards across the globe.
The SQF Certification is a reputable third-party validation recognized by retailers, brands, and food service providers. The SQF Certification demonstrates a producer's commitment to food safety along every part of their supply chain, from production to distribution.
"We recognize the incredible role we have in the food system to produce and provide a safe, healthy, and high-quality product to our customers," said Wade Brooks, CEO at LivBar. "We honor this responsibility by continuing to manufacture in our own facility, one of the few nutrition bar brands to do so. This allows us the opportunity to implement a culture of food safety and undergo the strenuous process of achieving SQF Certification."
LivBars are currently available in thousands of stores nationwide, including Whole Foods, Sprouts, Natural Grocers, Fresh Thyme, Bristol Farms, and Lowes. They are also available online direct from the LivBar website (http://www.livbar.com), as well as Amazon Prime and Amazon Subscribe and Save.
LivBar is distributed nationally through UNFI, KeHE, Core-Mark, McLane, and DPI Specialty Foods.
About LivBar
LivBar empowers active humans to eat organic and nourish the planet. LivBar is innovating the nutrition bar category through self-manufacturing at their own solar-powered facility and using the industry's only compostable wrapper. Every bar is USDA certified organic, low-allergen, plant-based, made with superfood immunity supporting ingredients, and baked, giving it a crunchy and chewy texture. Founded in 2012 by Jan Johansen, nutrition and fitness expert, LivBar is produced and manufactured in Salem, Oregon. For more information about LivBar, visit LivBar.com or their social media channels: Facebook, Instagram, Twitter, and LinkedIn.