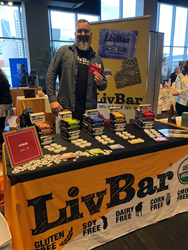 [W]e hand-make and bake our own bars, and once the customer takes the first bite, their faces light up and blossoms into a smile.
ANAHEIM, Calif. (PRWEB) February 28, 2020
This week, 86,000 food industry professionals will swarm to Anaheim, California, for what Forbes called, "the grocery industry's single biggest — and by far most important — show in North America." Expo West, an event by the New Hope Network is the "world's largest natural, organic and healthy products event." More than 3,600 food manufacturers, distributors, and suppliers will represent 580,000 square feet of exhibits over the four-day event.
Prior to the show, LivBar was announced as an "Expo West Hot Product" by SPINS, the natural food industry's leading data experts.
LivBar has also been recognized as a "Sustainable Exhibitor" by the New Hope Network, receiving a spotlight in the show. LivBar continues to be recognized for the bar industry's only home compostable packaging - the highest level of compostability.
"All the accolades are amazing, but what I'm happiest about is the growing organic trend - that people are becoming their own health heroes and choosing all organic, real food alternatives," said Jan Johanson, founder, and nutritionist.
"We've been to other shows this year and it's an interesting dynamic - people love the branding, the packaging, and the compostable wrapper, but they are skeptical that it's going to be a different bar experience. We get it, most of the bars come from a handful of co-packing facilities and on the main, they do taste the same. But we hand-make and bake our own bars, and once the customer takes the first bite, their faces light up and blossoms into a smile. 'You're right, they really are different and amazing' is the common refrain," said CEO, Wade Brooks. "It makes you appreciate the amazing product Jan developed, and proud to be helping people make healthy and delicious choices."
The LivBar booth, #2482, will be in Hall C at the Anaheim Convention Center, Thursday, March 5th, through Saturday, March 7th.
LivBars are currently available nationwide, online on Amazon Prime, Amazon Subscribe and Save, direct from the LivBar website (http://www.livbar.com), and in thousands of stores including: Erewhon, Fresh Thyme, Piggly Wiggly, Bristol Farms, New Seasons Markets, Market of Choice, Zupan's, Pete's Fresh Markets, Garden Bar, Roth's Fresh Markets, Made in Oregon, numerous independent stores across the US, and now Whole Foods.
LivBar is distributed nationally through UNFI, KeHE, Core-Mark, and DPI Specialty Foods.
About LivBar®
LivBar was founded in 2012 in Salem, Oregon, by two nutrition and fitness experts, Jan and Gabe Johansen. Jan was challenged to find any truly healthy energy bars she could recommend to her clients, so she created the LivBar recipes. LivBars are crunchy and chewy and come in five delicious superfood flavors: Coffee Maple Cacao, Raspberry Kale Maca, Blueberry Vanilla Kale, Ginger Lemon Turmeric, and Lemongrass Cherry Matcha. For more about LivBar, visit LivBar.com or check out our social media channels: Facebook, Instagram, Twitter, & LinkedIn.
If you would like more information, please call Jessi Freitag, Marketing and Operations Director at (971) 200-5257.