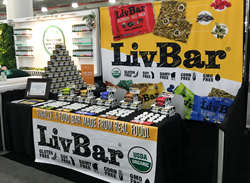 It's clear the public is prioritizing products created with sustainability in mind and made from whole food, organic, balanced, and low allergen ingredients.
SAN FRANCISCO (PRWEB) January 09, 2020
Next week, the LivBar team will travel to San Francisco to participate in two major industry trade shows: the Good Food Mercantile on January 18th and the Winter Fancy Food Show from January 19th through January 21st. Both shows are open only to Good Food Guild and Specialty Food Association members, respectively. Each association consists solely of companies who have met a series of strict requirements and, in the case of the Specialty Food Association, have gone through vetting by all other current members.
"2019 has been an amazing year for LivBar, and we're excited to share our wins with the industry and to cultivate relationships with new and existing peers and retailers," said LivBar CEO Wade Brooks. In 2019 LivBar has announced national distribution partnerships with both KeHE and UNFI, as well as gained shelf space in a multitude of stores including Whole Foods, Fresh Thyme Markets, and Bristol Farms.
This year's Winter Fancy Food Show will take place at the San Francisco Moscone Center and feature 1,400+ exhibitors from around the globe. All exhibitors must be "specialty food" makers, defined as "foods and beverages that exemplify high levels and a core focus on quality, innovation, and style in their category. Their specialty nature derives from: originality, authenticity, ethnic or cultural origin, specific processing, ingredients, limited supply, distinctive use, extraordinary packaging." LivBar will be highlighted at booth 5579 in the North Hall.
The Good Food Foundation hosts several Good Food Mercantile events a year, and this year's San Francisco Mercantile will take place at City View at the Metreon. LivBar recently became a member of the Good Food Guild, and this will be their first time participating in a Good Food Mercantile, which markets itself as an "un-trade show for tasty, authentic, responsible food." There will be close to 150 makers present, all focused on exceptional quality and social responsibility.
"As a nutritionist and wellness educator, it's amazing for me to see that LivBars are being received so positively with consumers and inside the industry," said LivBar Founder and creator Jan Johansen. "It's clear the public is prioritizing products created with sustainability in mind and made from whole food, organic, balanced, and low allergen ingredients."
Both events are a natural fit for LivBar, which is one of the industry's only USDA certified organic energy bars that incorporates plant-based, low-allergen superfood ingredients and also comes in a home-compostable wrapper. The bars are gluten free, GMO free, nut free, corn free, dairy free, soy free, and hand-baked for a texture that is both crunchy and chewy. All of the flavors are vegetarian and two are vegan.
LivBars are currently available in 30 states, online at Amazon Prime, Amazon Subscribe and Save, direct from the LivBar website (http://www.livbar.com), and in hundreds of stores including Erewhon, New Seasons Markets, Market of Choice, Zupan's, Roth's Fresh Markets, Fresh Thyme Markets, and Whole Foods (beginning in February 2020).
About LivBar®
LivBar was founded in 2012 in Salem, Oregon, by two nutrition and fitness experts, Jan and Gabe Johansen. Jan was challenged to find any truly healthy energy bars she could recommend to her clients, so she created the LivBar recipes. LivBars are crunchy and chewy and come in five delicious plant-based superfood flavors: Coffee Maple Cacao, Raspberry Kale Maca, Blueberry Vanilla Kale, Ginger Lemon Turmeric, and Lemongrass Cherry Matcha. For more about LivBar, visit LivBar.com or check out our social media channels: Facebook, Instagram, Twitter, & LinkedIn.
About Specialty Food Association
The Specialty Food Association is a thriving community of food artisans, importers, and entrepreneurs. Established in 1952 in New York, the not-for-profit trade association provides its 3,800 members in the U.S. and abroad with resources, knowledge and connections to champion and nurture their companies in an always-evolving marketplace. The Association owns and produces the Winter and Summer Fancy Food Shows, and presents the sofi™ Awards honoring excellence in specialty food.
About Good Food Foundation
The Good Food Foundation exists to celebrate, connect, empower and leverage the passionate and engaged, yet often overlooked, players in the food system who are driving towards tasty, authentic and responsible food in order to humanize and reform our American food culture.
Through five key programs – Awards, Guild, Alliance, Mercantile and Fund– we build widespread support for the growers, ranchers, makers and merchants stubbornly swimming upstream to create and share the kind of food we all want to eat: tasty, authentic and responsible.
If you would like more information, please call Jessi Freitag, Marketing and Operations Director at (971) 200-5257.