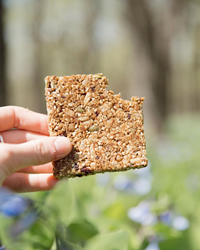 We're one of the only consumer packaged goods companies in the US that use a compostable wrapper.
SALEM, Ore. (PRWEB) June 10, 2019
Liv Foods Inc., maker of LivBar®, an all organic superfood nutrition and energy bar, has been honored as the "Most Mindful Consumer Packaged Good of 2019" by the independent platform Mindful Awards.
The mission of the Mindful Awards program is to honor conscious companies and products that do what's right for people and the planet. With over $700 billion in CPG sales projected for 2020, consumers have the power to create real change in the retail industry by buying from "Mindful" companies who have been recognized as the best in transparent, fair, natural, organic, sustainable, healthy and delicious products. This year's program attracted more than 2,500 nominations from companies all over the world.
LivBars® are one of the industry's only USDA certified organic energy bars that incorporate plant-based, low-allergen superfood ingredients in a handmade baked bar that is both crunchy and chewy. The bars are gluten free, GMO free, nut free, corn free, dairy free, and soy free. All of the flavors are vegetarian with two vegan options.
"Being mindful of the real food ingredients we consume is a core tenant at LivBar, additionally, our mindfulness extends beyond just what we eat - it's important to us that our products are sustainable and environmentally friendly. We're one of the only consumer packaged goods companies in the US that use a compostable wrapper," says CEO Wade Brooks.
Founder and nutritionist Jan Johansen adds, "Since our inception we've built a business around honest, heartfelt values that connect with people and the planet. We were organic before it was mainstream because it's always been the right thing to do. Recently we've tried to help our competitors, notably CLIF Bar and KIND Bar, move to compostable packaging but once the media spotlight shifted, so did their interest. With smaller bar companies like RXBAR, LÄRABAR, and most recently Health Warrior getting gobbled up by these industrial food monoliths, our mission to continue building a mindful company is even more important."
LivBars are currently available online at Amazon Prime, Amazon Subscribe and Save, direct from the LivBar website (https://livbar.com/), and in hundreds of stores, including, Erewhon, New Seasons Markets, Zupan's, Garden Bar, and Roth's Fresh Markets.
LivBar is distributed nationally through KeHE and DPI Specially Foods.
About LivBar®
LivBar was founded in 2012 in Salem, Oregon, by two nutrition and fitness experts, Jan and Gabe Johansen. Jan was challenged to find any truly healthy energy bars she could recommend to her clients, so she created the LivBar recipes. LivBars are crunchy and chewy and come in five delicious superfood flavors: Coffee Maple Cacao, Raspberry Kale Maca, Blueberry Vanilla Kale, Ginger Lemon Turmeric, and Lemongrass Cherry Matcha. For more about LivBar, visit LivBar.com or check out our social media channels: Facebook, Instagram, Twitter, & LinkedIn.
About Mindful Awards
The Mindful Awards organization is devoted to honoring mindful companies in the consumer packaged goods industry that are setting the foundation for our future. H1 Mindful Awards are devoted to providing a forum for public recognition around the achievements in categories Food, Beverage and Snacks. H2 of 2019 will launch another set of Mindful Awards to further expand recognition of mindful companies. For more information visit MindfulAwards.com.
If you would like more information, please call Jessi Freitag, Marketing and Operations Director at (971) 239-1209.