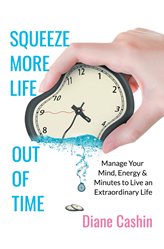 "I am humbled and honored to share the techniques I and many others use to fulfill our purpose. Life is challenging and every moment matters." - Diane Cashin
WASHINGTON (PRWEB) January 21, 2020
Diane Cashin, transformation coach and author, has recently released a new self-help workbook that will help readers learn how to seek out their true purpose and pursue their best lives. "Squeeze More Life out of Time: Manage Your Mind, Energy and Minutes to Live an Extraordinary Life" encourages readers to hone their best qualities and follow their own path to happiness and success, rather than the paths others create for them.
In the book, Cashin shares several simple techniques readers can take to change their predictable and limiting behaviors and create more love, peace, joy, health and financial stability in their lives. Cashin provides space for readers to work through the book's exercises, helping them explore on paper the best things about themselves and the work they must do to achieve their goals and unlock their fullest potential.
Cashin's inspiration for the book comes directly from her own difficult life—growing up in poverty in a family troubled by alcohol addiction and realizing that when she focused on trying to make others happy and to achieve their idea of success, she felt unfulfilled and unhappy. At a very young age, she became aware she wasn't like everyone else and she wasn't supposed to be. She felt happiest when she listened to what her heart and soul had to say; it guided her through life's tumultuous events. Having overcome the odds, Cashin now lives an extraordinary life. She is a business executive, speaker, author and philanthropist, traveling the world and sharing with others the secret to living extraordinary lives of their own.
Recently, Cashin was involved in a near-death car accident with 18 broken bones and other injuries that required her to learn to walk again. The accident also shattered her relationship, career, home, finances and personal wellbeing. In one of her darkest periods, the fear of opioid addiction and thoughts of suicide taunted her mind. She turned to her own book to regain her clarity and focus by listening to her soul. "I applied everything I had written in "Squeeze More Life Out of Time" to not only survive—but to thrive!"
Cashin offers "Squeeze More Life Out of Time" as a gift to the world in hopes that she can inspire others to define what living an extraordinary life means to them. "I am humbled and honored to share the techniques I and many others use to fulfill our purpose. Life is challenging and every moment matters. Just as darkness fills the night, life's events can be hard or are different from what you had planned and with the dawning of each new day, everything becomes possible when you focus on what you really want and let your soul guide your mind and body to create your extraordinary life!"
"Squeeze More Life Out of Time: Manage Your Mind, Energy & Minutes to Live an Extraordinary Life"
By Diane Cashin
ISBN: 9781546276388 (softcover); 9781546276371 (hardcover)
Available at the AuthorHouse Online Bookstore, Amazon and Barnes & Noble
About the author
Cashin is the author of "Why You Didn't Get the Job," a book written for women working to advance further in her career and endorsed by several notable figures including Patrice Flack D'Eramo, vice president of marketing with Cisco. She is an accomplishment coach who is accredited through the International Coaching Federation and a graduate of the University of Phoenix, having earned her bachelor's degree in business management. Using a whole person philosophy, she coaches individuals to live extraordinary lives in their business ventures as well as improve their personal health, love, wealth, dreams and happiness. Cashin started a healthcare software platform company that creates consumer-focused health information solutions using wearables. She has developed a "10 Step Leadership Program for Women" which has been delivered globally and was recognized by the CEO of Cisco as an example of global collaboration success for leadership development. She has served on multiple corporate and philanthropic boards, participating in policy advocacy workgroups to drive change. To learn more about Cashin, please visit http://www.SqueezeMoreLifeOutofTime.com.
Contact:
LAVIDGE – Phoenix
Kalin Thomas
480-648-7540
kthomas(at)lavidge(dot)com