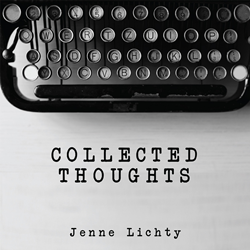 "Although our lives and we ourselves can seem overwhelmingly beyond restoration…remember that God is the ultimate visionary when it comes to fixer uppers. So let us be encouraged that when things seem too big, too broken, or too ugly, God sees the final project in its completed, restored state."
KITCHENER-WATERLOO, Ontario (PRWEB) November 12, 2019
Collected Thoughts by Jenne Lichty is a compilation of witty observations and musings about topics concerning the modern woman, mainly focusing on marriage, motherhood, autism, education, mental health, and spirituality. This charming read published by Elm Hill provides readers with an intimate, inspirational, and humorous look into the author's life with her husband and children. She associates mental health with spirituality in a way that encourages people to seek help from trained professionals while using God as their rock to work through mental illness and other related issues.
"I subscribe to the belief that what doesn't kill you makes you stronger. This is particularly true when it comes to marriage." Jenne Lichty gives advice to her readers—married couples in particular—that obstacles in their relationship should be overcome together in order to strengthen their bond. "We've made a pact to take every blow thrown our way and use it to build calluses and scar tissue, coming out stronger and tighter as a result. Not only are we prepped to be contenders for Mr. Universe, but we're bound closer to each other and to God with each year that passes."
A common struggle mothers experience today is dealing with opinions people have on how they raise their children. Jenne Lichty stands by her beliefs that homeschooling her children equips them for the life in the real world and nurtures their social skills, which she observed to be lacking in some neurotypical kids. She stands by her beliefs in adaptive and spiritual learning for her son and daughter, but admits that it takes a lot of courage to persevere. When she does, however, God rewards her with heartwarming results and personal growth.
"Although our lives and we ourselves can seem overwhelmingly beyond restoration, we need to remember that God is the ultimate visionary when it comes to fixer uppers," says the author to remind readers that the Lord gave mankind life and that there is salvation waiting for everyone in His plan. "So let us be encouraged that when things seem too big, too broken, or too ugly, God sees the final project in its completed, restored state. Let this truth help us find beauty in the mess of it all."
Jenne Lichty is a former special education teacher who focuses on her new role of homeschooling her children (both on the autism spectrum) as a stay-at-home mom. Her husband also walked away from his corporate career to live with the family on a horse farm where the couple and their children can thrive in a healthier, more enriching environment. Together, they run a special needs Equine Assisted Learning program to give their kids all the opportunities to grow up and discover the world God gave them.