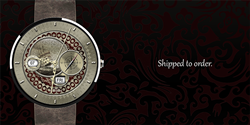 TORONTO (PRWEB) November 17, 2020
Live The Times, a popular WearOS app development company, today announced the launch of its latest watch face apps. The company has huge experience in developing WearOS apps and watch faces. They know how to deliver quality apps and they develop and design custom watch faces that make telling the time to a friend or a relative a fun and exciting experience.
At Live The Times, they consider that style is important to everyone. For an individual, the style represents who that person is. This company is creating an ever-growing series of watch faces that individually cater to distinct stylizations. Each watch face they create tells a story and adds elegance to a smartwatch. Individuals can choose from the many watch faces of distinct stylizations that are available to download on the Google Play Store.
In the past years, the wearables market has largely been focused on function, not form. However, Live The Times knew that style is a top consumer driver and developed a unique vision to leverage technology so that consumers have a choice. Consumers can wear whatever watch style fits their personality and the occasion, and change as often as they like.
The Flames Watch Face is a fantastic app developed by Live The Times that helps users bring their smartwatches to life as flames burn elegantly in the background. Even though this watch face might look simple, the truth is that it can make any watch stand apart from the crowd thanks to the brilliant animations. This amazing app features HD graphics, smooth animations, and variable flame speeds for a realistic look that's sure to impress. The watch face is fully customizable with 3 complications and millions of color options. The information can be set to different orientations. The complications can be set to display useful information such as weather, fitness, steps, heart rate sensor, world clock, stopwatch, timer, battery level, Google Pay, app shortcuts, and more.
The Executive Navigator Watch Face is the choice of sophisticated executives. This watch face was created to enrich any smartwatch with a full, finely formed design. It features an image of a ship alongside an old-styled compass. This gold and silver watch displays the day of the week and the date as an added watch complication. The Executive Gold Watch Face brings a touch of excellence. This watch face will enrich any smartwatch with clean cut gold. All the hands move by the millisecond to get the most accurate and smooth experience. It displays multiple elements of information on the two information panels on either side of the watch face that can be customized to suit personal needs.
Live The Times Watch Face apps are fully compatible with all the square and round smartwatches available on the market today. This means they are compatible with smartwatches from manufacturers such as Sony, Huawei, Asus, LG, Samsung, Motorola, and smartwatches from fashionable brands such as Fossil, Movado, Luis Vuitton, Kate Spade, Michael Kors, Emporio Armani, and more.
About Live The Times
Live The Times creates the best available smartwatch applications for Android WearOS powered devices. Their products are available on the Google Play app store for download. Thanks to the success of their apps, they have been profiled on news networks such as MarketWatch, Bloomberg BusinessWeek, Boston Globe, FOX, ABC, NBC, and CBS. Their line of watch faces such as Electric Energy and Animated Flames boasts the most cutting-edge algorithms to bring HD animation to Android Wear smartwatches. Elegant and refined watch faces like Executive Gold bring prestige and heritage to the smartwatch users.
For more information, visit https://www.livethetimes.com/