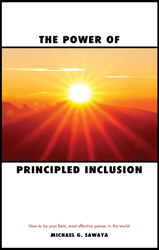 No matter the upheavals and changes in fortune and fate, the constant in your life must be your principles.
DENVER (PRWEB) October 20, 2020
Personal inner growth is never complete and is never intended to be. Through the last few months, we are all realizing that our personal values are changing and more than ever, that it's time to take a deep dive into ourselves and emerge with our true and powerful principles.
The Power of Principled Inclusion is interactive, prompting readers to conduct an inner search for the principles and values that give meaning and expression to their lives. Each chapter, followed by a workbook, addresses a specific topic such as mindfulness, awareness, integrity, and commitment. The intention is to give readers the space to ponder the subject matter and write down their thoughts and reactions to the concepts and processes contained within each chapter.
The Virtual Book Club is going to meet for up to an hour every Friday from Noon – 1pm MST via Facebook Live on The Sawaya Law Firm page to have ongoing discussions around chapters and the workbook.
Take this time with Michael to really grasp the concepts of the book and have time to ask questions and express your opinions. There will also be a weekly giveaway of at least one $25 gift card per session! The more viewers engage, the higher their chance to win! Each episode will be saved to Facebook and YouTube for those that can be a part of the Live Book Club.
Schedule as follows:
October 23rd: Chapters 1 & 2
October 30th: Chapters 3 & 4
November 6th: Chapters 5 & 6
November 13th: Chapters 7 & 8
November 20th: Chapters 9 & 10
November 27th: Chapters 11 & 12 will be posted but pre-recorded. Michael will reply to comments in the comment thread
December 4th: Chapters 13 & 14
December 11th: Chapters 15 & 16
December 18th: Chapters 17 & 18
Michael Sawaya, a name recognized across the Colorado Front Range, is a successful trial lawyer. A two-time author, he is devoted to sharing his beliefs about challenging the way that society presents itself while focusing on the power of positivity, integrity, and inclusion. These are core values that he holds dear.
The Power of Principled Inclusion is available on Amazon.com in both paperback and e-book. Hear the authors note here.
ISBN-13: 978-0578597904 ISBN-10: 057859790X
#MichaelSawaya | #BookOfInclusion
For interviews, please contact: Toni Garcia, Publicist - 720-202-2553 - toni@sharereason.com