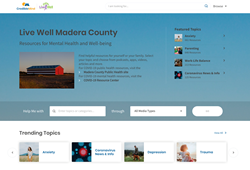 Given the strain placed on people and systems by the COVID-19 Pandemic, the need couldn't be greater.
SAN FRANCISCO (PRWEB) April 14, 2020
Mental health represents the second target for "flattening the curve" in connection with the COVID-19 crisis. Against that backdrop, Madera County, California, through its comprehensive Live Well Madera County initiative, is the latest in a growing number of organizations taking proactive steps to protect population mental health and help people flourish, even in challenging times.
Live Well Madera County (LWMC) is a community-based collaborative composed of countywide government, healthcare providers, health plans, business, education, law enforcement, community-based, and faith-based stakeholders that are committed to improving community wellness through focused aligned action. LWMC plays a crucial role in expanding access, addressing health equity, and making healthy behaviors and environments the social norm for the county's over 150,000 residents.
"At LWMC we are focused on destigmatizing seeking help for mental health issues, creating easier access to trustworthy resources, and integrating a broad wellness orientation across our community," said Dennis Koch, Director of Behavioral Health Services for Madera County. "Given the strain placed on people and systems by the COVID-19 Pandemic, the need couldn't be greater."
CredibleMind is a new kind of population health company, focused on getting upstream in addressing mental health needs. With over 10,000 expert-vetted resources and an AI engine that evaluates new resources on an ongoing basis, the site offers something for everyone. Books, podcasts, videos, apps, and online programs span topics ranging from anxiety, depression, parenting, sleep, and relationships.
The company's recently launched and frequently updated COVID-19 Resource Center includes:
MEDICAL INFORMATION AND NEWS. Trustworthy resources on the facts about COVID-19 to help keep people safe and informed.
PRACTICAL TIPS. Self-care, parenting, and work-related resources provide essential support to keep people calm and effective in balancing the unique demands of this time.
MENTAL HEALTH AND EMOTIONAL WELLBEING SUPPORT. Expert-vetted resources on stress, anxiety, social connectedness, happiness, mindfulness, and meditation, as well as meaning, purpose, and gratitude to help employees cope and thrive in these challenging times and the days of "new normal" to come.
CredibleMind serves a growing roster of private employers, public agencies, and community health organizations in their efforts to de-stigmatize the mental health discussion and get upstream in addressing mental wellness issues early.
"We are honored to be of service to the community of Madera County," said Deryk Van Brunt, founder and chief executive officer of CredibleMind. "Our aim is to help people get needed support both in this unique time and beyond it. The lessons learned after 9/11 tell us we can expect a significant increase in mental health and substance abuse problems. We are working hard with partners, such as LWMC to get out ahead and flatten the second curve of mental health issues."
About CredibleMind
Our mission is to help people flourish by optimizing their mental health, emotional wellbeing, and spiritual growth. A majority of adults in the U.S. have a mental or emotional health challenge and want assistance. However, only a small fraction receive professional services. While 75 percent turn to self-care first, we uniquely provide users with evidence-based self-help approaches and help users find the most appropriate resources and interventions in a friendly, familiar, and accessible form. CredibleMind PRO, our enterprise offering, provides a digital platform that enables employers, insurers, healthcare providers and community organizations to engage users, provide evidence-based support for mental health improvement, and refers users to organizational and local resources. CredibleMind PRO provides a comprehensive upstream population-based mental health ecosystem, complete with analytics reporting on service needs, use, and outcomes. For more information visit us at CredibleMindPro.com.
About Live Well Madera County
LWMC is committed to an iterative transformational process focused through a Community Health Assessment (CHA) and Community Health Improvement Plan (CHIP) implementation every 3-5 years. The CHA and CHIP documents are the product and responsibility of all LWMC members. Appropriate CHIP goals and objectives are adopted into member organizations' strategic plans. Measured results reflect the degree to which LWMC organizations collaborate and realize community transformation for Madera County resident wellness.