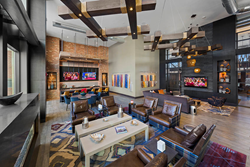 "These awards are true validation of our Ambassadors tireless efforts to break the multifamily mold in creative ways, and we're honored to receive them," said Elaine De Lude, vice president of LIVEbe.
ROCKVILLE, Md. (PRWEB) January 10, 2019
LIVEbe, a premier apartment developer and operator, today announced it has received four Marketing and Advertising Excellence (MAE) Awards and three individual Leasing Professional Awards from the Property Management Association for 2018.
The MAE Awards recognize several of LIVEbe's creative marketing and social media campaigns. Three LIVEbe team members, meanwhile, received honors for scoring better than 90 percent on mystery shops. The company affectionately refers to its employees as Ambassadors.
"These awards are true validation of our Ambassadors tireless efforts to break the multifamily mold in creative ways, and we're honored to receive them," said Elaine De Lude, vice president of LIVEbe. "The campaigns have been inspired and imaginative and the service levels at our communities have been transcendent, and we believe we will push the envelope even farther in 2019."
The MAE Awards, first revealed last month, recognized LIVEbe's Dream Careers campaign, the company's promotional video for Baltimore development 2Hopkins, its Matterport virtual-experience tour on the website of New Carrolton-based development The Remy, and it's Find Your Oasis social media campaign. Of note, the Dream Careers campaign, designed to attract motivated individuals with creative problem-solving skills and a passion for creating connected communities, was featured in UNITS Magazine in August.
Individual Leasing Professional Awards went to Jahneliz Miller of The Bowen (based in Bowie, Md.), and Mark James and Debra White of Glen Oaks, based in Greenbelt, Md. The trio's mystery shopping scores were the glitziest among several high-performing associates.
"While Jahneliz, Mark and Debra deserve a multitude of credit, they'll be the first to tell you that the entire contingent of Ambassadors at each site has genuinely created a unique living experience at each community," said Jennifer Rucker, vice president of operations for LIVEbe. "That being said, they should be as proud of their outstanding individual achievement as we are of them. And this gives us a lofty benchmark for 2019."
LIVEbe also was recently honored with numerous SatisFacts Resident Satisfaction awards, both for individual communities and for the company as a whole. In late 2018, Rucker was named the John M. Gallagher, CPM Property Management Professional of the Year by the Property Management Association.
In addition, LIVEbe developments 2Hopkins and The Remy reached lease-up within a year, and The Remy earned a Delta Associates Excellence Award for Best Lease-Up Pace for a Suburban Maryland Apartment Community.
About LIVEbe
Headquartered in Rockville, Md., LIVEbe was founded in 2016 and is helmed by multifamily veterans Elaine De Lude and Jennifer Rucker. LIVEbe is the multifamily division of Berman Enterprises and was established with a specific focus on fostering a sense of community by offering an unparalleled living experience for residents and employing LIVEbe Ambassadors who are forward thinking and passionate about providing exceptional customer service.
About Berman Enterprises
Berman Enterprises is a multi-generational real estate and investment company founded on the principles of honesty, integrity, hard work, hands-on management, community and philanthropy. Employing a conservative financial strategy, Berman Enterprises has experienced sustained growth since brothers Melvin J. Berman and I. Wolford Berman founded the company in 1952.
Today, the Company and its affiliates own and manage more than 9 million square feet of commercial office, retail, industrial/flex and residential properties in Maryland, Virginia, Illinois, North Carolina and Pennsylvania. The Company also owns several hundred acres of developable land representing thousands of units of residential and hundreds of thousands of square feet of commercial and retail development potential.