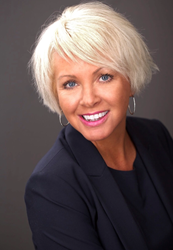 "We've always prescribed to the idea that if you take care of your team members, they will take care of you. LIVEbe is a testament to that notion," said Rucker.
ROCKVILLE, Md. (PRWEB) November 15, 2018
LIVEbe, a premier apartment developer and operator, today announced that Jennifer Rucker, vice president of operations, has been named the John M. Gallagher, CPM Property Management Professional of the Year by the Property Management Association.
Rucker will be honored Thursday night at the PMA Past Presidents' Award Banquet at the Bethesda Marriott. The PMA will also announce that LIVEbe Vice President Elaine De Lude has been named to the board as the organization's secretary/treasurer.
"It is humbling to receive such a prestigious honor, but this is truly a 'team' award," said Rucker, who will be featured in an upcoming PMA bulletin. "We've always prescribed to the idea that if you take care of your team members, they will take care of you. LIVEbe is a testament to that notion, as our onsite ambassadors have been amazing and empowered us to reach truly transcendent service levels."
LIVEbe recently was honored with numerous 2017 SatisFacts Resident Satisfaction awards, both for individual communities and for the company as a whole. LIVEbe developments 2Hopkins (Baltimore) and The Remy (New Carrollton) reached lease-up within a year, and The Remy earned a Delta Associates Excellence Award for Best Lease-Up Pace for a Suburban Maryland Apartment Community.
In her role, Rucker is responsible for property management operations, revenue and expense management, asset preservation and recruiting in the Baltimore and Washington, D.C. metropolitan markets. The Highpoint University graduate has more than 20 years of property management experience and previously held roles at ROSS Companies, LCOR, The Mark Winkler Companies and Charles E. Smith Residential.
"Jennifer has been a longtime supporter of PMA and views this honor as an opportunity to provide career development for our ambassadors at all of our communities," De Lude said. "LIVEbe and Berman Enterprises are proud of her well-deserved accomplishment and know how gracious she is to receive it."
De Lude is a longtime PMA participant and has received the organization's Vision Award, the Carole Worley Distinguished Service Awards and several MAE Awards. Another multifamily veteran who previously served as the chief marketing officer for ROSS Companies, De Lude has facilitated training programs for PMA Associates and a speaker at national industry events. She holds a Masters of Business Administration from the University of Maryland.
"The PMA is a great platform for multifamily professionals to get involved in the industry and give back to the community," De Lude said. "The organization has a number of resources that provide learning, leadership and networking opportunities, including a community service committee. The PMA has played a pivotal role in successfully advancing the careers of hundreds of associates, and I'm honored to have this opportunity to serve on the board as secretary and treasurer."
About LIVEbe
Headquartered in Rockville, Md., LIVEbe was founded in 2016 and is helmed by multifamily veterans Elaine De Lude and Jennifer Rucker. LIVEbe is the multifamily division of Berman Enterprises and was established with a specific focus on fostering a sense of community by offering an unparalleled living experience for residents and employing LIVEbe Ambassadors who are forward thinking and passionate about providing exceptional customer service.
About Berman Enterprises
Berman Enterprises is a multi-generational real estate and investment company founded on the principles of honesty, integrity, hard work, hands-on management, community and philanthropy. Employing a conservative financial strategy, Berman Enterprises has experienced sustained growth since brothers Melvin J. Berman and I. Wolford Berman founded the company in 1952.
Today, the Company and its affiliates own and manage more than 9 million square feet of commercial office, retail, industrial/flex and residential properties in Maryland, Virginia, Illinois, North Carolina and Pennsylvania. The Company also owns several hundred acres of developable land representing thousands of units of residential and hundreds of thousands of square feet of commercial and retail development potential.
Media contact
Elaine De Lude
240-621-3200
edelude(at)LIVEbe.com
https://www.livebe.com/