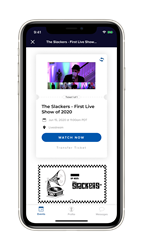 "We view streaming as a fundamentally new element of the artist to fan relationship that will continue long after the return of live events. We think new content opportunities and formats are emerging, and with them new stream-commerce opportunities," said Alan Rakov, LiveFrom co-founder.
LONDON (PRWEB) July 16, 2020
LiveFrom Media LTD, co-founded by Steve Machin and Alan Rakov, today launched its mobile app featuring revolutionary StreamingTickets™. The LiveFrom StreamingTicketTM is a completely new ticket type. Issued as a digital ticket into the LiveFrom app, the ticket becomes the stream when the live event starts.
The LiveFrom app, powered by FanDragon Technologies, the industry-leading Blockchain-secured ticket delivery solution, integrates the company's artist-centric streaming service platform with a mobile-first experience that prioritizes ease of use for fans. The new app creates a powerful unified channel for secure streams, as well as tickets, vouchers and messaging. The innovative solution empowers artists, venues and promoters, as well as any ticket company, to create and deliver streaming strategies that deepen the relationship between artists and their audience, delight fans with custom content while providing a toolkit to organically grow the global fanbase.
"Alan and I came to streaming from the world of ticketing. As artist interest and fan demand started to explode, we instinctively recognized the live industry was going to quickly need a simple, yet secure, solution for monetizing and delivering high-quality streams beyond free-to-air channels," Machin, LiveFrom co-founder said. "We are building a new suite of streaming commerce tools that unlock a whole new category of monetization that we are calling stream-commerce."
"We view streaming as a fundamentally new element of the artist to fan relationship that will continue long after the return of live events. We think new content opportunities and formats are emerging, and with them new stream-commerce opportunities," said Rakov, LiveFrom co-founder. "The ability to deliver access to a stream and/or an In Real Life (IRL) event through the same platform creates a whole new world of fan engagement for artists. We're looking forward to bringing together a diverse group of partnerships and individual talents to fully realize the opportunity ahead of us."
"With so many streaming options emerging, LiveFrom provided us with the most strategic streaming vision, helping us to understand how to really deliver for our artists. Working on the forthcoming stream for Deaf Havana with LiveFrom it's become crystal clear that creative fan orientated streaming events can continue to play a part in connecting our artists to their fans, even in a post-COVID world." said Angus Blue, of Riverman Management.
LIVEFROM TO DATE
LiveFrom has streamed over 200 performances over the last three months —from Clutch to The Slackers, and to the Music Venue Trust to the Chillout Tent. Additionally, LiveFrom is supporting the Music Venues Trust Save our Venues campaign and was the streaming production partner of Save our Scottish Venues Festival headlined by K.T. Tunstall, Fatherson and Wet Wet Wet following a launch party with Fran Healy.
This weekend, LiveFrom will be streaming three live concerts:

Badflower's So Happy I'm Thirty Festival streams at 4 PM Eastern (9 PM BST) on 18 July.
Deaf Havana's James Veck-Gilodi will play an acoustic, reimagined set from Old St. Pancras Church in London, live streaming at 3 PM Eastern (8PM BST).
On 19 July Silverstein's live stream begins at 4 PM Eastern (9 PM BST).
Stream Tickets and more details are available at: livefrom.events
LIVEFROM MOBILE APP
The lightweight app is free to download and available in the iOS App Store and Google Play store.
Key features include:
Event Page - displays both Upcoming and Past streams, tickets and special offers.
LiveFrom StreamingTicketTM– the industry's first ticket-type designed for streaming, dynamically updating the front of the ticket to display either a StreamingTicketTM or a Barcode for "In Real Life" events. The "back" of the ticket displays dynamic content from artists, venues and event presenters. When the stream event begins the ticket transforms into the live-streamed show.
Direct-to-TicketTM Messaging— the industry's first Direct-to-Ticket messaging feature
provides the ability to push messages to ticketholders within the app to remind them of the upcoming stream, provide a merchandise offer, or promote any other fan engagement opportunity.
BLOCKCHAIN SECURED
All of LiveFrom's mobile streams are secured by the Aventus Protocol, a layer-2 blockchain network focused around digital assets that brings scalability and privacy to Ethereum.
"FanDragon operates an enterprise-scale ticket delivery platform enabled by the Aventus protocol. Steve and Alan leveraged our platforms to provide the most secure and feature-rich live-stream offering on the market," said Annika Monari, co-founder of Aventus.
"The combination of FanDragon technology and Steve and Alan's extensive live entertainment experience will help to deliver the best possible fan experience," said Alan Vey, co-founder of Aventus.
ABOUT LIVEFROM
Created by ticketing pioneers Steve Machin and Alan Rakov, LiveFrom delivers a full-featured concert streaming solution including strategy, production, broadcasting, monetization and execution. LiveFrom has created the world's first StreamingTicket™ a revolutionary ticket that is issued like a standard digital ticket but becomes the online video player when the event is streamed live. For more information: livefrom.events
ABOUT FANDRAGON
Lead by Steve Machin, CEO international, and Alan Rakov, CEO North America, FanDragon Technologies leverages the Ethereum digital ledger via the Aventus protocol. FanDragon Technologies has reimagined mobile ticket delivery with a revolutionary SaaS platform that brings control and transparency back to ticket rightsholders. With offices in Los Angeles, and London, FanDragon Technologies is led by industry experts with decades of first-hand experience in global-scale ticketing. For more information: FanDragon.com
ABOUT AVENTUS
Aventus is a layer-2 blockchain network focused around digital assets that brings scalability and privacy to Ethereum. Aventus transforms oversight, standardization, trust and innovation across enterprise ecosystems by acting as a secure and independent backbone of interoperability, communication and value exchange. For more information: aventus.io