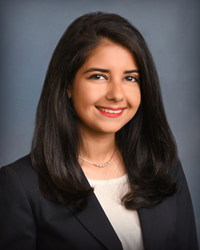 "Ms. Afsous is a skilled practitioner who always puts her clients first."
FAIRFAX, Va. (PRWEB) March 12, 2020
Livesay & Myers, P.C. proudly announces the promotion of attorney Shirin Afsous to the position of Senior Associate in the firm.
"Ms. Afsous is a skilled practitioner who always puts her clients first," said Matthew Smith, a partner at the firm. "At the settlement table, she is a seasoned negotiator with an eye for detail. And in the courtroom, she is always incredibly prepared and poised, leading to well-earned results."
Originally from Fairfax, Virginia, Ms. Afsous earned her law degree from Suffolk University Law School in Boston, Massachusetts, where she graduated cum laude with a Trial and Appellate Concentration, with distinction. Before law school, Ms. Afsous graduated cum laude from the University of Mary Washington, in Fredericksburg, Virginia.
After law school, Ms. Afsous clerked for a judge on the Superior Court of the District of Columbia for two years before joining Livesay & Myers, P.C. as an associate attorney in 2017.
Upon joining the firm, Ms. Afsous quickly became known for her commitment to her clients. In case after case, she has served as an aggressive and zealous advocate for their interests both inside and outside the courtroom. In response, Ms. Afsous' satisfied clients have rewarded her with a large number of outstanding reviews and testimonials online.
Ms. Afsous was named a Super Lawyers Rising Star in both Virginia and Washington D.C. in 2019. She currently holds a perfect 10.0 rating from both Avvo and Justia.
Ms. Afsous works in the firm's Arlington office, and represents clients in Arlington, Alexandria and all across Northern Virginia. She resides with her husband in Northern Virginia.
About Livesay & Myers, P.C.
Livesay & Myers, P.C. is a fast-growing family law firm with offices in Arlington, Fairfax, Manassas, Fredericksburg and Leesburg, Virginia. The firm was founded in 2003 by partners James Livesay and Kevin Myers. By 2016, Livesay & Myers, P.C. had made the annual Virginia Lawyers Weekly list of Virginia's Largest Law Firms, debuting at #64 (and moving up to #61 by 2019). The firm appears in the 2018–2020 editions of the U.S. News & World Report listing of Best Law Firms (Family Law, Washington, D.C. region).