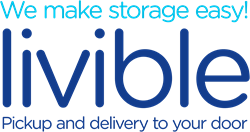 "We're committed to our mission of making storage easy for our customers. Hands down, Livible is a more convenient, less expensive alternative to traditional public and self-storage options," stated Terry Drayton, Livible's founder and CEO.
SAN FRANCISCO (PRWEB) January 22, 2019
Livible, a white glove, on-demand storage provider, announced today that it is expanding its service to the San Francisco market, effective immediately, with the formal opening of its new warehouse facility. Livible's service includes pick up, packing, tracking, storing, and re-delivery of valued possessions to customers upon request. In other words, customers never have to leave and schlep their belongings to a storage facility. Livible's service is available to both home and business customers throughout San Francisco, the East Bay and Marin County. The company's latest expansion comes on the heels of $16 million in new funding, which Livible is using to expand its services beyond Seattle, Portland and Boston, with more local cities and regions to come later this year. By making storage easier, more convenient and affordable, Livible is reinventing the traditional public and self-storage model.
Livible comes to the rescue of people who are facing significant life events such as downsizing, death, divorce, home remodeling, staging a home for sale or just trying to make more room by decluttering their living space. These life events, whether unexpected or planned, often drive a need for extra storage space. One out of every 10 households in the U.S. rents a self-storage unit (10x10 being the average size rented), according to the Self Storage Association. The current experience of moving personal possessions into public storage is difficult, distressing and an expensive burden.
The Rent is Too Damn High
Self-storage owners and operators know that "switching costs" for tenants to move is grueling. They've also discovered that they can raise rents unfettered compared to other segments of real estate, such as apartments, office space, etc. In California, self-storage rental rates have surged over the past decade. Since 2014, they have increased by 26 percent. The average rental cost for a 10x10 storage unit in San Francisco is approximately $230 or more per month.
Personal and Business Storage Version 2.0
Livible wants to simplify storage, freeing up time so people can focus on more important priorities in their lives. It has introduced a completely different approach, experience and pricing model. The company is the first and only on-demand storage solution designed to meet customers' needs and redefine the customer experience. Livible stands apart by providing:

Exact cost estimates: Anyone can price out their monthly storage cost in advance via Livible's website or app; prices provided are so accurate that the company guarantees them.
Door-to-door service: Upon arrival, Livible's friendly, courteous, and professional team will inventory customers' valued possessions and take them to its secure, climate-controlled storage facility. When customers want any of their items back, they use Livible's mobile app to select the items they want and the company will deliver them the next day.
Guaranteed appointment time: The company's patent-pending system allows customers to select and reserve an exact time for pick up or delivery from Livible's web or mobile app.
Guaranteed savings: Compared to traditional self-storage rates, customers will always save money with Livible.
No high-pressure sales pitches, long term contracts or hidden fees: Customers can cancel at any time and Livible does not regularly raise rates like self-storage operators do.
Only pay for space used: Customers only pay for what they store instead of paying for an entire self-storage unit that customers typically only partially fill.
Professionally trained team: Livible undertakes full background screening and bonding for each team member. They also invest further in professional training to perfect procedures aimed at avoiding damage and preventing the loss of customers' valued possessions.
Instant savings bonus for self-storage customers: Customers who switch to Livible from a self-storage facility will lock-in a new monthly storage rate 15% less than their current bill and will guarantee that rate for as long as they store with Livible.
"We're delighted to expand to San Francisco! Livible provides the Bay Area with a significantly better storage solution, blending cutting-edge logistics with a user-friendly mobile interface and a friendly, bonded, professionally trained staff. We're committed to our mission of making storage easy for our customers. Hands down, Livible is a more convenient, less expensive alternative to traditional public and self-storage options," stated Terry Drayton, Livible's founder and CEO. "Not only do our customers save time, money and the hassles of traditional self-storage, but the experience using Livible is safer and -- kinder and gentler to your body."
With urban dwelling on the rise, major metropolitan cities are magnets for both millennials and baby boomers. Densely populated cities, also mean smaller living spaces, often triggering a need for more storage. Livible's unparalleled storage solution allows people to store their valuable possessions in a way that frees up space in their home and saves them time while still having easy access to those items that are important in their life.
Store it, Sell it, Donate it
Livible also helps customers sell or donate any items they wish to shed. By simplifying the process of offloading items, Livible is supporting select, local non-profit organizations as well as encouraging people to give to the community versus adding trash to landfills.
About Livible
Combining advanced technology, deep logistics expertise and a mission to redefine the customer experience, Livible provides white glove, on-demand storage to business and home customers in Boston, Portland, Seattle and San Francisco. The company offers an easier, more convenient and 15%+ less costly solution compared to traditional self-storage alternatives. Livible offers online and mobile technologies to enhance the customer experience for instant pricing estimates, scheduling, tracking and organizing, enabling customers to realize significant time and cost savings. Founded by serial entrepreneur Terry Drayton, Livible's executive team, investors and advisors have founded and lead industry-leading companies, including HomeGrocer, Amazon, Costco, Microsoft and Nordstrom. Partnering with OfferUp and select, local non-profit organizations, Livible is building an ecosystem to make it easier for customers to sell, donate, repurpose and keep items out of a landfill. For more information, interested parties may visit http://www.livible.com or can download the Apple or Android mobile app.