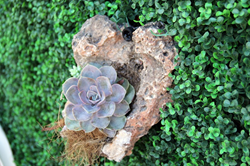 We have received many calls about green walls and living walls.
San Marcos, CA (PRWEB) January 21, 2014
A hybrid living wall is a wall constructed with artificial hedge, which combines real rock and living succulent plants. This product was developed to meet the increasing demand for "green" decorative products.
Geranium Street Floral has recently completed several large artificial boxwood hedge wall projects in Las Vegas, San Francisco, San Mateo, San Diego, and Palm Springs. Artificial hedge walls are becoming quite popular for both residential and commercial designs. Artificial hedge walls are being implemented at hotels, restaurants, office buildings, and private residences.
"We have received many calls about green walls and living walls," said Geranium Street owner, Bob Smith. "We decided to create something that was the best of both worlds, which we call the "Hybrid Living Wall," said Smith. "The beauty of the hybrid living wall is that it requires almost zero maintenance."
Smith explained that while real living walls are indeed beautiful, they are very expensive, both to create and maintain. They also require complex watering systems that have a tendency to break down. The hybrid living walls created by Geranium Street are made with artificial boxwood hedge, combined with real rocks, and California succulents. The succulents are real plants that survive with very little maintenance or water.
Geranium Street Floral can custom design a hybrid living wall for an interior or exterior space. Interior designers are going crazy for some of Geranium Street's artificial plant products and will surely be excited about the hybrid living walls. "We're doing our best to create timely, hip, low maintenance, green walls that will blaze the trail for 2014," Smith said.