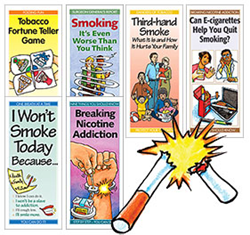 The momentum to curb tobacco use is steadily building.
Santa Cruz, CA (PRWEB) December 11, 2014
The most recent Surgeon General's report on smoking released in January 2014, The Health Consequences of Smoking – 50 Years of Progress, found that cigarettes today pose an even greater risk of disease than the cigarettes sold when the first Surgeon General's report was issued in 1964. The report finds that "changes in the design and composition of cigarettes since the 1950s" are responsible for smokers' increased risk of developing lung cancer.
The facts show that tobacco not only leads to lung cancer, tobacco use harms nearly every organ in the body. The momentum to curb tobacco use is steadily building. With materials on cessation, the risks of secondhand smoke and information about smokeless tobacco products, Journeyworks Publishing is ready to help health professionals across the nation continue their work to end the tobacco epidemic in 2015 and beyond.
Health educators and other professionals are invited to see how the widely valued tobacco prevention and cessation titles from Journeyworks Publishing can strengthen their campaigns to help communities clear the air. To request a complimentary set of titles, visit the Living Tobacco Free review pack page.
The Living Tobacco Free review pack incudes the following titles, providing positive encouragement and actionable tips for living Smoke Free:

I Won't Smoke Today Because
Breaking Nicotine Addiction
Smoking: It's Even Worse Than You Think
Third-hand Smoke: What It Is and How It Hurts Your Family
Can E-cigarettes Help You Quit Smoking?
After You've Quit: Adjusting to a Smoke-Free Life
Professionals working to reduce and end tobacco use can click here to request a complimentary Living Tobacco Free review pack today.
About Journeyworks Publishing
Journeyworks Publishing is a national health education and health promotion publisher with more than 10,000,000 pamphlets, brochures, booklets, posters, bookmarks, videos, digital pamphlets and other products distributed each year. Used extensively by public health departments, hospitals, schools, VA programs and more, Journeyworks materials are known for being creative, effective, easy-to-read and accurate. You can learn more by visiting http://www.journeyworks.com.