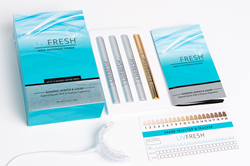 The LIVFRESH Teeth Whitening System has been formulated specifically to address the whitening needs of those with sensitive teeth. We are providing a safe, non-irritating solution designed to help people achieve a brighter smile.
SAN FRANCISCO (PRWEB) September 15, 2020
America's obsession with having a bright white smile led consumers to spend $1.4 billion last year on over-the-counter teeth whitening products, according to the American Academy of Cosmetic Dentistry. Despite its popularity, for the 40-million Americans with sensitive teeth, the number one problem associated with teeth whitening products is heightened tooth sensitivity due to weakened enamel. Today, Livionex introduces the LIVFRESH Teeth Whitening System that has been formulated specifically to address the whitening needs of those with sensitive teeth. The LIVFRESH Teeth Whitening System blends science and luxury to get the most sensitive teeth up to 8 shades whiter in as little as 10 minutes a day.
"The problem with teeth whitening products on the market is that they use whitening agents that can strip the enamel and further irritate those with sensitive teeth and gums. This is especially problematic for nearly 200-million Americans already experiencing some sort of gum disease which includes gum inflammation and gum recession. We are already known for our LIVFRESH toothpaste line which addresses the cleaning needs for those who suffer from gum disease. Now we are giving these same people a safe, non-irritating solution designed to help them achieve a brighter smile," said Livionex CMO Hirsh Goswamy.
The proprietary LIVFRESH formula is unique because it blends a mixture of carbamide and hydrogen peroxide— with potassium nitrate, the same desensitizing ingredient found in Sensodyne toothpaste. This has multiple advantages:

First, the blend of hydrogen peroxide with carbamide allows for a sustained whitening treatment, due to the varying release times of each ingredient. In internal tests, LIVFRESH's formula produced stronger whitening results than when each ingredient was used individually.
Second, individuals can whiten with more comfort because of potassium nitrate reducing sensitivity side effects.
The LIVFRESH whitening technology targets the most difficult teeth stains caused from tea, coffee, wine, and soda. The system includes whitening serums and a specifically designed mouthpiece that emits a blue LED light when its connected mobile device or computer. Clinical studies show that the blue light accelerates the whitening process.
To use the LIVFRESH whitening system, its recommended to brush first. Next, users apply the whitening serum to the top and bottom teeth, avoiding the gum line. Then they activate the blue light by plugging the mouthpiece into any USB port into a mobile device or computer. Once the blue light is activated, they place the tray in their mouth for 10 to 30 minutes at a time. At the end of their session, the user rinses his/her mouth as well as the mouth tray.
Besides addressing sensitivity issues, the LIVFRESH whitening system prevents 'rebound,' a common side-effect where teeth appear white, but the brilliance is not sustained as long due to dehydration.
The LIVFRESH Whitening System retails for $129.99 with a semi-annual subscription and $149.99 as a one-time purchase. It includes a blue light emitting mouthpiece and four whitening gels; three silver pens for general use and one gold pen, that contains a higher concentration of whitening for special occasions. The elegantly packaged kit contains up to 21 treatments and makes a stunning gift. The LIVFRESH whitening serums are gluten-free, vegan, sugar-free, SLS and triclosan free. All the products are cruelty-free and don't contain salicylates and parabens. More can be found at http://www.GetLIVFRESH.com
About LIVIONEX
Livionex was founded in 2009 by Stanford and UC Berkeley alums with the goal of enhancing the quality and longevity of human life. Headquartered in Los Gatos, CA, Livionex develops novel therapies for a variety of age-related diseases affecting billions of people worldwide. The Company's first product to market, LIVFRESH Dental Gel, is based on its proprietary technology that modulates metal ions that cause oxidative stress and disease. Besides introducing products in the oral health industry, the Company is introducing a new category of treatment for various disorders and diseases associated with metallo lipid protein aggregates, inflammation, and/or bacterial biofilms across ophthalmology, dermatology and oral care. The LIVFRESH line of products is available on-line at http://www.GetLIVFRESH.com and in dental offices across the country.