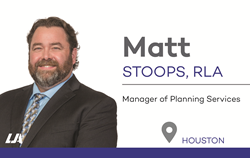 HOUSTON (PRWEB) September 13, 2018
LJA welcomes Matt Stoops, RLA as the Manager of Planning Services.
Matt brings over 23 years of dedicated planning experience to each of his projects, with an aptitude for creative and approvable design solutions for both large and small projects. Matt joins LJA having worked on numerous high-profile projects in the Houston area and South Texas coastal region, particularly for large scale master planned communities, commercial, and office site planning. He is a natural champion for walkable communities and an even stronger advocate for his clients. In his role at LJA, Matt is responsible for land development and planning including project participation in all levels of coordination from project initiation and preliminary analysis through concept plans, final plans, agency coordination, zoning approvals, processing of plats to creation and implantation of community design guidelines.
He is a Licensed Landscape Architect in the State of Texas and a graduate of Texas A&M University earning a Bachelor of Landscape Architecture. Matt's previous experience includes twenty years working on the planning staff for Kerry R. Gilbert & Associates. He is a valuable addition to an already established Planning and Landscape Architecture team of ten.
Founded in 1972, LJA is an employee-owned, full-service consulting engineering firm serving both public and private sectors. With 27 offices throughout Texas and Florida, the staff of LJA includes over 750 experienced civil, transportation, structural, midstream, rail, and coastal engineers, plus hydrologists, environmental specialists, land planners, landscape architects, construction managers, designers, GIS specialists, technicians, and surveyors. LJA.com