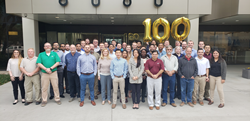 "We are very proud of what has been accomplished and recognize it is a team effort. By focusing on our key clients, we build strong, long-term relationships, plus we have great employees and a supportive corporate leadership team." ~Jim Wiegert, PE, Vice President
DALLAS (PRWEB) January 07, 2020
LJA Engineering (LJA) has called North Texas home since 2015. In December of 2019, LJA's North Texas Land Development division achieved a major milestone in the region reaching 100 employees. LJA's momentum in the region, with new and expanded full-service offices, will continue to connect the firm's depth of resources to the right clients at the right time. LJA has long had one of the largest land development presences in Texas, and now it ranks among the strongest and most multi-disciplinary in the North Texas region.
"We are very proud of what has been accomplished and recognize it is a team effort. By focusing on our key clients, we build strong, long-term relationships, plus we have great employees and a supportive corporate leadership team. Along with the hot land development market in North Texas, this creates a great business environment and tremendous growth potential. Growth is fundamental to our core values as it provides career advancement opportunities for all our employee owners," said Jim Wiegert, PE, Vice President.
Founded in 1972, LJA Engineering is an employee-owned, full-service consulting engineering firm serving both public and private sectors. With 32 offices throughout Texas and Florida, the staff of LJA includes over 1100 experienced civil, transportation, structural, midstream, rail, and coastal engineers, plus hydrologists, drone/aerial pilots, environmental specialists, land planners, landscape architects, construction managers, designers, GIS specialists, technicians, and surveyors.