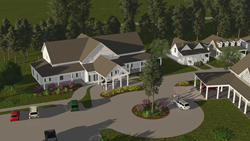 CONROE, Texas (PRWEB) April 26, 2019
LJA Enginering is proud to be involved in the planning and design of Angel Reach's Transitional Living Center, a new neighborhood in Conroe, Texas.
Each year 200-300 youth age out of foster care in the greater Houston area. Angel Reach is a non-profit organization that helps youth who have aged out of the foster care system and are homeless between the ages of 16-24, many times involved in illegal activities such as gangs, drugs, or human trafficking. Angel Reach brings them into group homes and teaches them life skills, gives counseling, and helps them earn their GED and driver's license and find suitable jobs. Angel Reach provides them with two years of support to take the next steps towards an independent life, until they can move into their own apartment.
"This is one of those jobs we do for the passion. It started with several group homes in the Conroe area, and we are helping Angel Reach to develop a vision for a neighborhood that can house as many as 100 young adults, and expand their services. The neighborhood land plan has a Main Street with housing on either side and an additional community building for counseling, training, and group gatherings. We have worked with the team to create a design that The City of Conroe can support. Current funding comes from United Way, grants, and direct fundraisers like the one we recently attended." ~Jim Wendt, Director of Planning, LJA Engineering
"We have been working with Angel Reach for several years, and it is finally beginning to take off. We have received the City of Conroe's approval to move forward with the plan, and I am working on the engineering. The builder, Tom Cox with Gracepoint, is doing the heavy lifting and encouraging other builders to donate one or two units to start the first phase. We hope to pull building permits soon." ~Vince Salazar, Vice President, LJA Engineering
"LJA has a long tradition of hands-on commitment to worthwhile efforts like Angel Reach, enhancing their lives and our own communities. We are excited about the momentum and grateful to bring our resources and talent to Angel Reach. Our planning and civil engineering designs make a difference for these kids, and for us." ~Donnie Reed, Vice President, LJA Engineering
We invite you to join LJA in this effort! For more information, please visit http://angelreach.org/