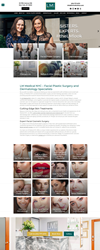 Our revamped website serves as a great resource for individuals to learn more about the many treatment options we offer in dermatology and facial plastic surgery, says Dr. Lesley Rabach
NEW YORK (PRWEB) October 12, 2020
LM Medical NYC's fully redesigned website, http://www.lmmedicalnyc.com, features detailed information regarding the wide range of dermatologic and facial plastic surgery options available at the unique medical practice. At LM Medical NYC, patients receive the benefit of access to two top physicians in their respective medical fields, all at one state-of-the-art facility. As sisters and founders of the practice, Dr. Lesley Rabach, a board-certified facial plastic surgeon, and Dr. Morgan Rabach, a board-certified dermatologist, come together to provide the highest-quality medical, surgical and cosmetic care for patients. On the newly designed website, visitors can learn more about LM Medical NYC and the latest in clinical dermatology treatments for skin concerns and cosmetic plastic surgery options. Combining expertise in facial plastic surgery and dermatology, the practice provides a customized approach to meet each patient's personal needs in a state-of-the-art clinic. LM Medical NYC has created a comfortable, upscale atmosphere for patients seeking services, ranging from non-invasive cosmetic injections to a youthful makeover with facelift surgery.
"Our revamped website serves as a great resource for individuals to learn more about the many treatment options we offer in dermatology and facial plastic surgery," says Dr. Lesley Rabach
More about LM Medical NYC:
LM Medical NYC offers expertise in two fields of medicine to help patients achieve the appearance they desire at their clinic on 5th Avenue in Manhattan. Dr. Lesley Rabach is Yale-trained, and double board-certified in Otolaryngology and Facial Plastic Surgery, with a stellar reputation for creating natural, exquisite results for patients. Her extensive education, training and experience have earned accolades in her field, and Dr. Lesley has been published in various medical journals. Dr. Morgan Rabach is a board-certified dermatologist who also has been recognized for her many accomplishments in dermatology and aesthetics. She has received many top rankings in her field and has a substantial media presence in some of the top beauty publications around the world.
LM Medical NYC's clinic is located at 33 Fifth Avenue #1B in New York, NY, and offers cutting-edge cosmetic surgery and skin care treatments. For more information or to schedule a consultation or appointment, please call 212-777-2272, or visit http://www.lmmedicalnyc.com.