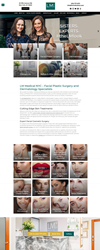 We are so honored to be recognized by Find Local Doctors. Our goal is to help patients feel and look their best at any age by providing exceptional cosmetic surgery and skin care treatments, says Dr. Lesley Rabach
NEW YORK (PRWEB) December 14, 2020
LM Medical NYC was recently recognized by Find Local Doctors as a 2020 Top Patient Rated New York City Plastic Surgeon/Dermatologist. Whether you are seeking non-surgical medical treatment for acne or want to explore cosmetic surgery, LM Medical NYC offers the best of both worlds in one facility. As a result of excellent online reviews and five-star ratings across multiple sources, LM Medical NYC has been recognized with this impressive honor. Find Local Doctors is a user-friendly online directory that helps consumers connect with experienced physicians in their area. LM Medical NYC joins a distinguished group of medical practitioners that have earned this title.
As sisters and founders of the practice, Dr. Lesley Rabach, a board-certified facial plastic surgeon, and Dr. Morgan Rabach, a board-certified dermatologist, come together to provide the highest-quality medical, surgical and cosmetic care for patients. At LM Medical NYC, patients receive the benefit of access to two top physicians in their respective medical fields, all at one state-of-the-art facility. Combining expertise in facial plastic surgery and dermatology, the practice provides a customized approach to meet each patient's personal needs. LM Medical NYC has created a comfortable, upscale atmosphere, providing many services, ranging from the latest in clinical dermatology treatments to non-invasive cosmetic injections and youthful makeovers with plastic surgery.
"We are so honored to be recognized by Find Local Doctors. Our goal is to help patients feel and look their best at any age by providing exceptional cosmetic surgery and skincare treatments," says Dr. Lesley Rabach.
More about LM Medical NYC:
LM Medical NYC's clinic is located at 33 Fifth Avenue #1B in New York, NY, and offers cutting-edge cosmetic surgery and skincare treatments The practice offers expertise in two fields of medicine to help patients achieve the appearance they desire at their clinic on 5th Avenue in Manhattan. Dr. Lesley Rabach is double board-certified in two facial plastic surgery fields, with a stellar reputation for creating natural, exquisite results for patients. Her extensive education, training and experience have earned accolades in her field, and she has been published in various medical journals. Dr. Morgan Rabach is a board-certified dermatologist who also has been recognized for her many accomplishments in dermatology and aesthetics. She has received many top rankings in her field and has a substantial media presence in some of the top beauty publications around the world. For more information or to schedule a consultation or appointment, please call 212-777-2272, or visit http://www.lmmedicalnyc.com.