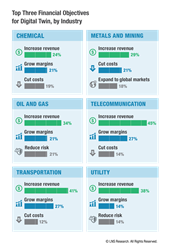 CAMBRIDGE, Mass. (PRWEB) April 04, 2019
LNS Research, a leading industrial research and advisory firm, today released The Process Manufacturing Digital Twin: Digitalization for the Asset Lifecycle and Value Chain report, available for free download.
Industrial Transformation has become the overarching topic among executive leadership in manufacturing companies. Manufacturers in the batch and continuous process industries, and other asset-intensive industries such as oil and gas, mining, energy, utilities, and transportation, believe that the Digital Twin should be at the center of Industrial Transformation efforts.
According to Joe Perino, Research Analyst with LNS, "Digital Twin, like Digital Transformation, is not a 1- or 2-year technology project; instead, they are part of a long-term Industrial Transformation initiative. The organization doesn't need to launch a massive program. To be successful, companies must start today and avoid common pitfalls, or they risk quickly falling too far behind the competition to catch up."
The research from LNS indicates process manufacturing companies and asset-intensive industries are using Digital Twin technology to:

Improve product quality
Ensure safe manufacturing
Reduce manufacturing costs
Improve product, equipment, and process designs
Expand the capability and capacity of workers
But unlike discrete manufacturing, the process manufacturing and asset-intensive industries have no common Digital Twin definition. This ebook advances the Digital Twin dialog and examines:
The status of the Digital Twin and supporting technology adoption
How businesses can use Digital Twins to drive Operational Excellence
Starting steps companies must take to deploy Digital Twins
Digital Twin examples and use cases
Get your free copy of the Digital Twin research report now.
About LNS Research
LNS Research provides research and advisory services to guide industrial companies through digital transformations. The firm's research focuses on how digital technology drives transformations across the value chain and offers insights into the people, processes, and technologies required for achieving Operational Excellence. The firm's publications include quantitative research on trends and best practices, as well as Solution Selection Guides. The company's research analysts work with industrial companies, including manufacturers in discrete, batch, and process industries, to minimize risks associated with alignment, time, and cost in Industrial Transformation, from assessing readiness through solution selection and deployment. This work uses proven methodologies to drive convergence between IT and operations teams, and to empower team leaders to achieve goals and time-to-value, quickly and confidently.