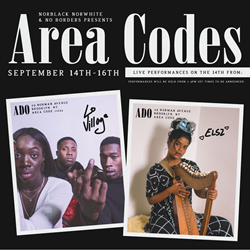 In the short two years the group has been releasing music, Lo Village has burst onto the scene catching not only the attention of fans across the world, but that of key industry players as well.
NEW YORK (PRWEB) September 13, 2018
Maryland R&B/Hip Hop trio Lo Village set to perform at NY FASHION WEEK during NORBLACK NORWHITE X NO BORDERS' AREA CODES.
NORBLACK NORWHITE partners with NO BORDERS to present a 4-day pop up event series. Presenting new apparel collections curated with a heavy POC line up of designers & artists from across the world, the mission of the pop up shop series is to open the window to the worlds the shops are inspired by. The event will be held at the A/D/O in Brooklyn, NY and aims to curate and showcase over 30 artists & brands from India, Toronto, NY, LA & the Middle East. Lo Village will be the main showcase performance during the weekend's pop up.
About Lo Village
Lo Village is a Hip-Hop/R&B group from Gaithersburg, MD, comprised of MC's Kane and Charles Tyler, and R&B powerhouse Ama. Rebel Music Collective founded the group in 2011, but as they sought to further develop their sound, Ama joined as Lo Village's lead vocalist to give the group a unique R&B twist. Lo Village's debut project, Last Summer was released in September of 2016, followed by their sophomore EP For the Birds in 2017. Both projects were met with great reception, with coverage from several Spotify playlist and various blogs including RapNation, Elevator Magazine, 2dopeboyz and Daily Chiefers. The group has accumulated nearly 2 Million streams on Spotify alone. Lo Village recently released the first singles from their third project in late August, with a video premier on Notion Magazine and are anticipating the project's full release later this month.
About NORBLACK NORWHITE
NORBLACK NORWHITE's philosophies develop from paying respect to the past, questioning the present and creating for the future. Raised in Toronto, Mriga Kapadiya and Amrit Kumar moved to India in 2009 to explore their Indian roots. Traveling across the country they were exposed to the many disappearing art forms and artisan communities. NBNW was born out of a desire to re-interpret these ancient practices of textile design, while bringing together their worlds by mashing up their love for Michael Jackson, 90's R n B and all things old and gold.
Having been featured in Wallpaper*, Asos, Fader, Fashion Television, I-D Magazine, Vogue India and Vogue Italy, they were also selected by Frida Gianinni (Ex - Creative Director of Gucci) as her favorite young designers from India for the Grazia Young Fashion Awards in 2012.
About NO BORDERS
No Borders is a concept store that focuses on diversity in fashion culture and art. Their collections have been carefully curated by its founder and Creative Director Kanika Karvinkop.
No Borders aims at sharing stories of different cultures through the works of artists and designers from all around the world, whose unique voice and craftsmanship tell a very compelling story.
SOURCE Rebel Music Collective