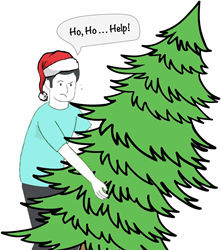 We're here to help our customers accomplish their decluttering resolutions this holiday season with FREE Christmas Tree Removal.
ATLANTA (PRWEB) December 20, 2019
Starting December 26, LoadUp Junk Removal is offering free Christmas tree haul away to give back this holiday season.
"We wouldn't be where we are today without our amazing customers," said CEO and founder, Greg Workmon. "To show our customers how much we appreciate them, we are going a little bit further by offering an easy way to get rid of their Christmas tree, for free."
Here's how it works: Customers that schedule two or more items for removal from December 26 – January 31 are eligible for free Christmas tree removal and disposal at no additional cost.
"We often hear about our customers wanting to declutter around the holidays," said Workmon. "We want to help them accomplish their goals and resolutions in every way possible."
LoadUp is an easy way to get rid of your unwanted items without the hassle of heavy lifting or hefty prices. Learn more about LoadUp's removal and disposal services here or by calling (844) 239-7711.
About LoadUp: In 2014, LoadUp revolutionized the junk removal industry with a mission to provide the most honest, transparent and convenient solution on the market. It is the only junk removal company that offers guaranteed, upfront pricing and the only one that uses crowdsourcing to recruit independent licensed and insured junk haulers. Today, the company has served 100,000+ customers with 270+ driver teams in 170+ US cities, achieving nearly 3,000% growth in the last three years. LoadUp is ranked as #118 fastest growing company in the US on Inc.'s 2019 Fast 500 list and is a certified Great Place to Work®. For more, visit: https://goloadup.com/.